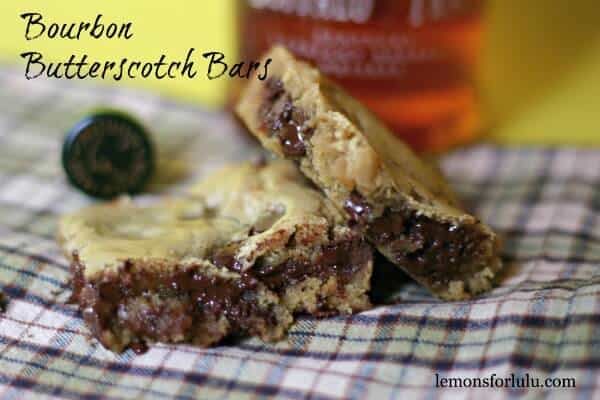 I am not a patient person.  I usually stop the microwave before the time is up.  I've been known to finish sentences for others.  I eat food piping hot regardless of how much pain my tongue will have to endure.  I hate waiting for people to call or write me back.  I love Christmas and birthdays but I always find out what I'm getting way in advance.  It pains me to wait for kids to tie their shoes.   I channel surf because I'm too impatient to figure what's going on in any show.  I get so exasperated when people drive BELOW the speed limit.   I HATE those automated options when I make a call.  I furiously press pound, star or 0 until a real person comes on the line!  My nail polish is always smudged because I can't wait for them to dry.  I punch the gas petal at green lights because I can't be still any longer.  I line jump at the grocery store to find the quickest moving line.   I'm sure there's more, but I don't have the patience to list them all!
I was in the mood for bourbon this week.  Not to drink, but to use in some sort of recipe.  I have a recipe for butterscotch bars that I hadn't made in a while.  Turns out butterscotch and bourbon are very compatible flavors!  The bourbon is not very pronounced, but it provides a warm undertone.  These butterscotch  bars can be on the sweet side when unadorned, I think the bittersweet chocolate and the bourbon transform these from simply a  sweet treat into something sophisticated.
I was so excited when I took these out of the oven!  The smell was incredible!  They were speaking to me I tell you!  I couldn't wait to cut a corner and dig in.  Literally, I couldn't wait, so I cut a corner and dug in.  You know, for quality control.  That one bite  was so soft and buttery, it completely melted in my mouth.  The warm chocolate covered my finger tips.  Patience is indeed a virtue, but sometimes it's worth digging right in!
If you've enjoyed this post, please consider subscribing via email, RSS, Facebook or Pinterest!  I love staying in touch with friends!
I made these too! 
Bourbon Butterscotch Bars
16
adjust servings
A rich butterscotch bars with a subtle hint of bourbon and loads of chocolate chips!
Ingredients
1/2

cup butter

2

cups brown sugar

2

large eggs

1

t vanilla

2

T bourbon

1

t salt

1

t baking powder

1 1/2

cups flour

10

oz bittersweet chocolate chips
Instructions
Pre heat oven to 350. Grease a 9x 13 pan. Melt butter in microwave. Stir in brown sugar, vanilla and bourbon. Let cool to room temperature. Add in eggs, salt, baking powder and flour. Stir in chocolate chips.- Pour onto greased pan and bake for 20 24 minutes until bars begin to pull away from the sides of the pan and the top looks shiny.