This toffee recipe is crazy easy!
Biscoff cookies are the base, while caramel, white chocolate and Biscoff finish it off!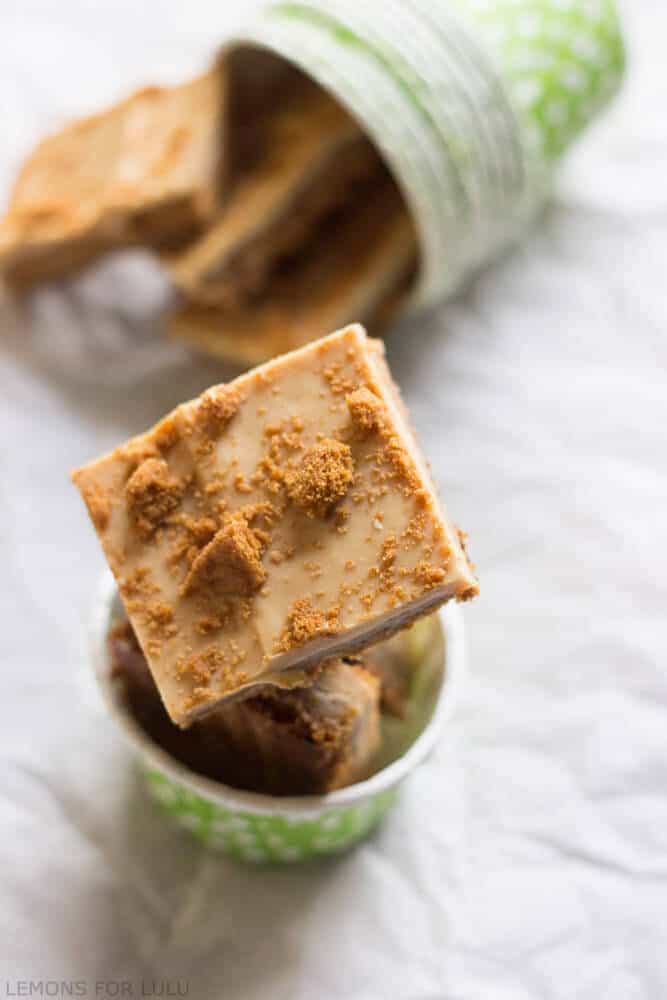 The discovery of Biscoff spread has almost ruined peanut butter for me. That's how much I love the stuff. I DO still eat peanut butter, don't get me wrong. I love it in my morning smoothies, in apple pie sandwiches and even in stir fry. But Biscoff is the stuff I could just eat straight from the jar with a spoon.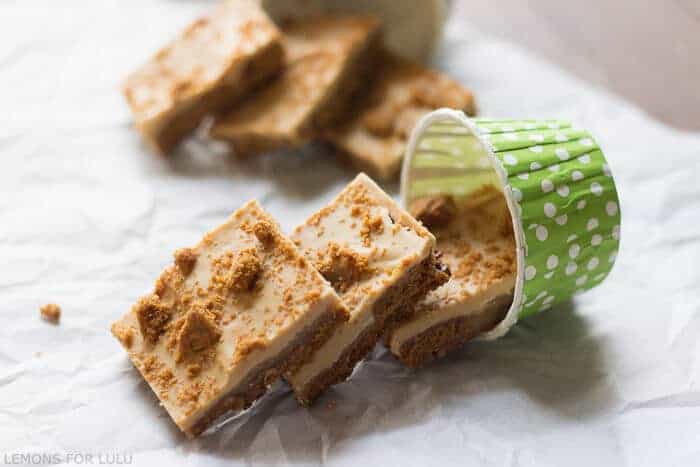 Christmas is practically here and I realized there are a number of people who still need gifts. There are teachers, gymnastic coaches, the bus driver, the mail man, neighbors and friends. While I am running out of time to go shopping, I'm NOT running out of time to make a quick pan of toffee! Toffee is very easy, and when you start with cookies as your base, well it's especially delicious too!
Originally I was going to make a peanut butter toffee recipe, but quickly changed my mind and dove for the nearest jar of Biscoff instead!
This Biscoff toffee recipe is based on my White Chocolate Toffee recipe, however, for this recipe I used Biscoff cookies in place of saltine crackers.
While the caramel layer is the same for both recipes, the white chocolate layer differs slightly. For this recipe, I used both white chocolate chips and chopped white chocolate. Chopped chocolate melts up creamier and makes the chocolate layer rich and very smooth. I also swirled in a fair amount of Biscoff spread into my white chocolate.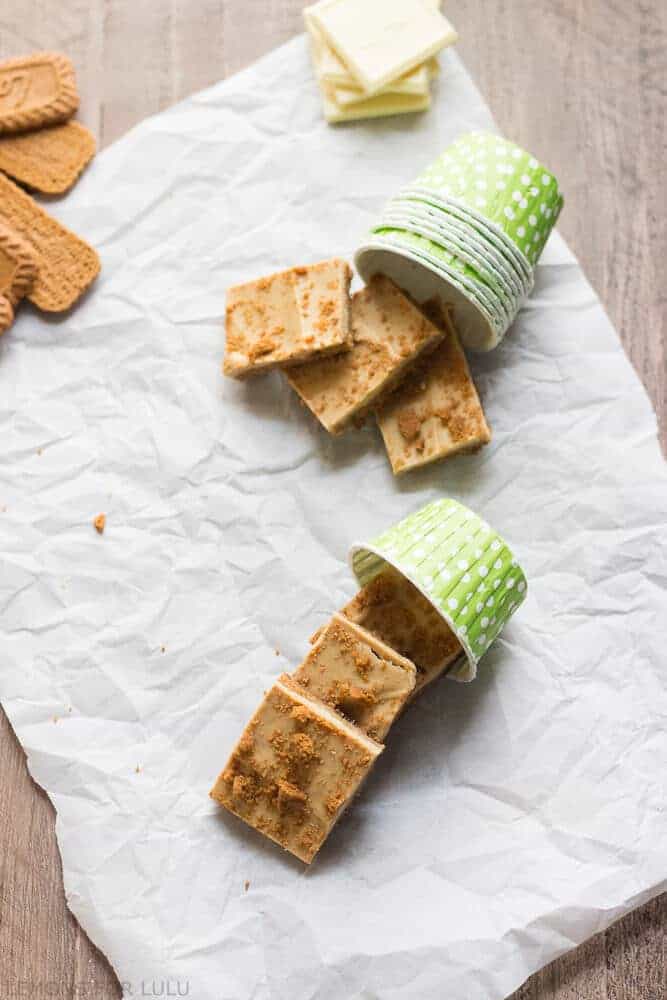 The end result is the most swoon-worthy piece of candy ever. The cookies are like gingerbread, while the caramel layer is soft and chewy. The white chocolate is creamy and decadent with a slight gingery taste. Each bit is absolutely luscious.
Now I find myself in a serious quandary. I have fallen in love with this toffee and am not sure I can part with it. Sure I could make another batch but… well fudge makes a nice gift, doesn't it?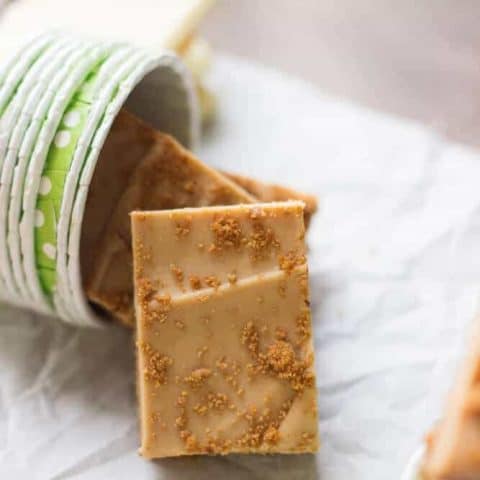 Biscoff Toffee
Biscoff cookies are the base, while caramel, white chocolate and Biscoff finish it off!
Ingredients
54 Biscoff cookies ( about 1 1/2 packages)
1 cup butter
1 cup brown sugar
1 14 oz can sweetened condensed milk
4 oz white chocolate squares, chopped
11 oz white chocolate chips
1/3 cup Biscoff cookie spread
Instructions
Preheat oven to 425. Line a jelly roll pan with aluminum foil that has been sprayed with non stick spray. Arrange cookies over foil, cutting cookies to fit as necessary.
In a small sauce pan, melt butter with sugar over medium heat, stirring occasionally. When butter has melted, remove pan from heat and stir in condensed milk. Continue to stir until well blended. Pour caramel mixture over cookies, spread mixture over the entire pan with an offset spatula. Bake for 10 minutes or just until golden.
In a microwave safe bowl, melt together chopped chocolate and chocolate chips until melted and smooth. Stir in Biscoff spread. Spread chocolate over toffee layer.
Refrigerate toffee until set.
Nutrition Information
Yield

16
Serving Size

1
Amount Per Serving
Calories

545
Total Fat

29g
Saturated Fat

17g
Trans Fat

0g
Unsaturated Fat

8g
Cholesterol

49mg
Sodium

277mg
Carbohydrates

68g
Fiber

0g
Sugar

56g
Protein

6g