Blonde Brownies flavored with Biscoff spread and caramel filled Rolo candies!
The best brownies ever!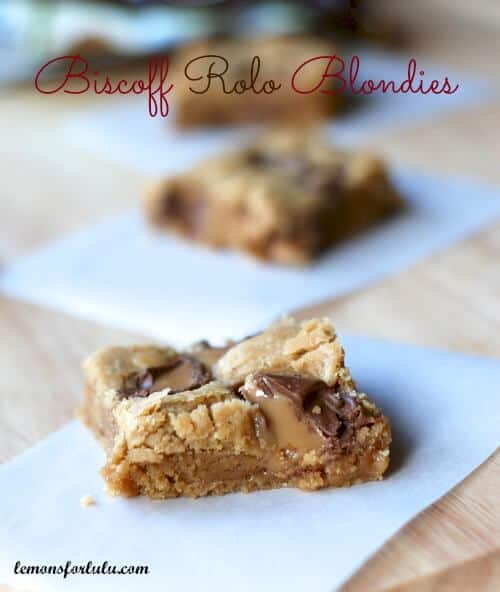 I've been buying Biscoff spread for over a year now. I first bought a jar to make Bakarella's Fudge. I fell in love with the taste and never looked back. Since then, I've managed to keep my Biscoff hoarding tendencies a secret. I kept my little jar hidden in the cupboard somewhere behind the half empty jar of molasses and the corn syrup. I'd eat a little on my toast after the kids left for school, or I'd have a spoonful with my apples in the afternoon. I'd smile each time that glass jar made an appearance and I'd savor each private spoonful of luscious, ginger spread. Oh, how I LOVE, love, love Biscoff spread!! It's truly my guilty pleasure.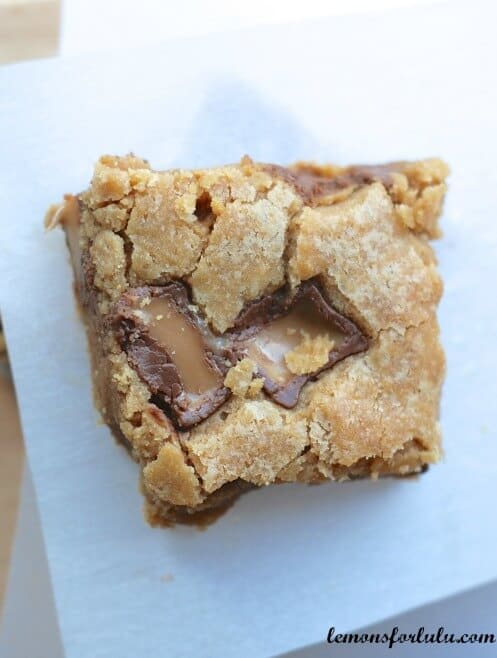 My private affair with the solo jars of Biscoff spread were going well until about two months ago. See, I made so many gingerbread recipes over the holidays, I managed to use up all my molasses. It never really occurred to me to replace that jar so that my Biscoff would remain hidden. Unfortunately for me, our peanut butter is usually located in the same cupboard. My daughter was innocently reaching for the peanut butter one day when she grabbed the Biscoff instead. As soon I heard "mom, what's this?", I know my blissful Biscoff bubble had popped! I would now have to share my beloved Biscoff with the family, which means I'd probably have to start buying Biscoff in bulk!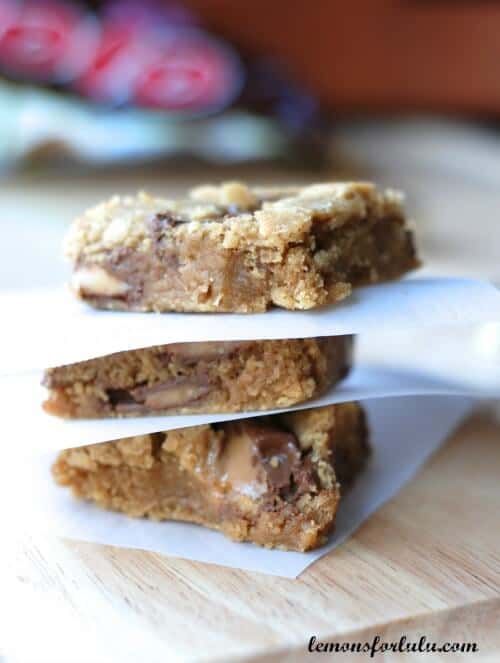 I'm afraid our family Biscoff addiction will put us in the poor house. But it's worth it. Now I buy a jar for us to eat, a back up jar for us to eat and one to use in baked goods, like these cups. This time I used it in brownies or to be specific, blondie brownies!! They are very sweet and very addictive! And to make them even more irresistible, I threw in a whole bag of Rolo candies!! Seriously, have you ever seen a better brownie? No, you haven't.
When the brownies first come out of the oven, you'll notice the edges are set, but the center looks very soft. That's how they are supposed to be, trust me!! Don't over bake them. And whatever you do, have a glass of milk handy!
Other Brownies You Might Like:
NEVER MISS A RECIPE! SIGN UP FOR MY EMAILS TODAY!
Follow Me:
RSS | FACEBOOK | TWITTER | GOOGLE + | BLOGLOVIN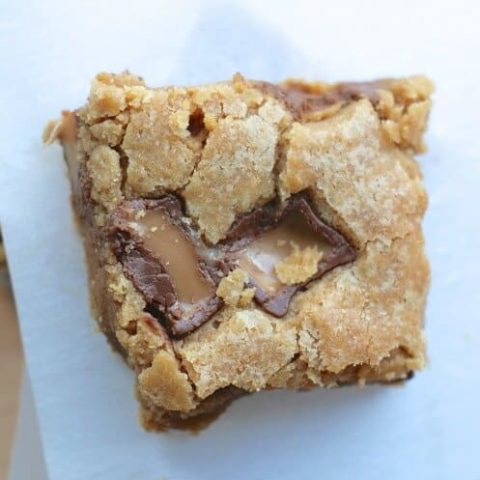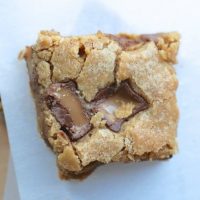 Biscoff Rolo Blondie Brownies
Blonde Brownies flavored with Biscoff spread and caramel filled Rolo candies!
Ingredients
1 cup butter
3/4 cup brown sugar
3/4 cup white sugar
2 eggs
1 teaspoon vanilla
1 cup Biscoff Spread
1 3/4 cup flour
3/4 teaspoon baking powder
1 12oz package Rolo Candy
Instructions
Preheat oven to 350. Line a 9x13 pan with parchment paper, set aside
In a bowl, cream together butter and both sugars. Add eggs one at time, beating well after each addition. Stir in vanilla and Biscoff spread. Combine flour and baking powder and slowly add to Biscoff mixture. Stir in half of the Rolo candies. Spread batter into prepared pan. Chop remaining Rolo's and press onto the top of blondie.
Bake for 40-45 minutes or until a toothpick inserted comes out clean. Edges will set and blondies will be soft. Let cool completely before cutting squares. Blondies will stay very soft and moist.
Nutrition Information
Yield

24
Serving Size

1 cookie
Amount Per Serving
Calories

281
Total Fat

16g
Saturated Fat

7g
Trans Fat

0g
Unsaturated Fat

7g
Cholesterol

38mg
Sodium

136mg
Carbohydrates

34g
Fiber

1g
Sugar

23g
Protein

3g