Biscoff filled brownie cups with a chocolate drizzle
are the perfect bite size treat!
My addictions are as follows: 1. coffee. I NEED several cups each day to get me going. 2. hummus. This is a staple snack that is consumed daily. 3. Biscoff spread. Oh my gosh do I love Biscoff spread! I could eat mass quantities of the sweet gingery spread and it still wouldn't be enough.
I've become a Biscoff hoarder. Each time I go to the grocery store I pick up a jar. Because you see this is not just my addiction, but it's become a family addiction as well. I've taken to buying one jar for my kids and one just for me. I have to do it that way. Nothing will set me off quite like reaching for the Biscoff jar to heap onto my apple slices only to find that it is empty! Oh the horror!
Yes, my friends, hoarding is the answer. Someday you may find me on a reality show. My kids will intervene and force to me let go of all the Biscoff jars I've stashed in multiple storage lockers where bystanders will be anxiously waiting to bid on my loot. It could happen! Well actually it could only happen if I didn't like to bake with Biscoff! Because aside from simply eating Biscoff right out of the jar, it bakes up the most delightful treats! No kidding. If you haven't tried it yet, then I'm so sorry.
But there is hope for you. It's called the grocery store. The little red jar is just waiting for you. Go on, grab it. Take it home. Smell it, taste it and then bake with it. That's what I did. I made up these little bite sized gems just because I was craving some Biscoff. Chocolate and Biscoff are quite the pair. These brownie bites are fudgy and rich and the creamy Biscoff filling is nestled right in the middle. A little drizzle of chocolate completes the look!
The filling is so creamy and delicious, I made a whole separate batch just to eat with a spoon! What can I say! I'm addicted! Just wait, you will be too! I'll keep the storage locker next to mine empty, in case you know, you need to hoard a few jars too!
MORE BISCOFF TO LOVE:
NEVER MISS A RECIPE! SUBSCRIBE TO MY EMAIL TODAY!
FOLLOW ME:
FACEBOOK | RSS | TWITTER | GOOGLE + | BLOGLOVIN | INSTAGRAM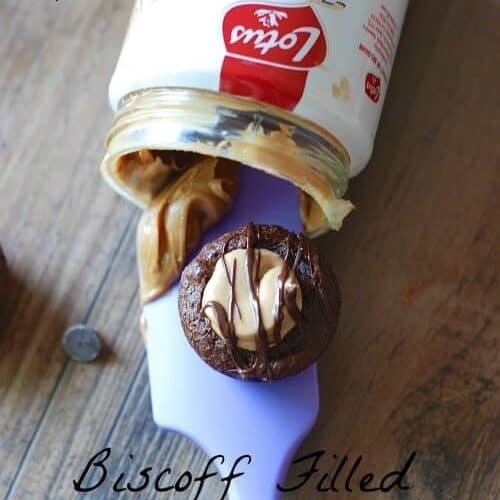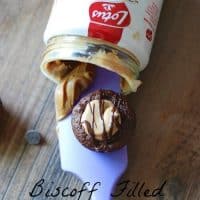 Biscoff Filled Brownie Bites
Yield: 48 brownie bites

Prep Time: 20 minutes

Cook Time: 15 minutes

Total Time: 35 minutes

Biscoff filled brownie cups with a chocolate drizzle are the perfect bite size treat!
Ingredients
1 cup butter
2 1/4 cup sugar
1 1/4 cup cocoa
1 teaspoon salt
1 teaspoon baking powder
1 tablespoon vanilla
4 eggs
1 1/2 cup flour
1/2 cup Biscoff Spread
4 tablespoons shortening
1/3 cup powdered sugar
2 tablespoon milk
1/4 cup chocolate chips
Instructions
Pre heat oven to 350. Spray two mini muffin tins with non-stick spray and set aside.
In a microwave safe bowl, combine butter and sugar. Microwave on high until butter has melted. Stir to combine. Stir in cocoa, salt, baking powder and vanilla. Whisk in the eggs one at a time until smooth. Spoon brownie batter by tablespoon into each mini muffin tin cavity. Bake for 13-15 minutes or until tops are set. Prepare filling while brownies cool.
For the filling, combine Biscoff spread and shortening beating until completely smooth. Carefully mix in powdered sugar and milk until filling is creamy.
When brownies have cooled slightly, make an indentation into each cup with the tip of a wooden spoon. Then pour filling into a zip top baggie and snip the corner. Pipe filling into each brownie cup.
Melt chocolate chips and drizzle over brownie cups.
Nutrition Information
Yield 48 Serving Size 1 brownie bite
Amount Per ServingCalories 132 Total Fat 7g Saturated Fat 3g Trans Fat 0g Unsaturated Fat 3g Cholesterol 26mg Sodium 98mg Carbohydrates 16g Fiber 1g Sugar 11g Protein 2g