Seasoned steak is topped with onion, gouda cheese, and a spicy bbq sauce then placed on a beer-infused pizza crust. This pizza is grilled for a delicious, smoky flavor!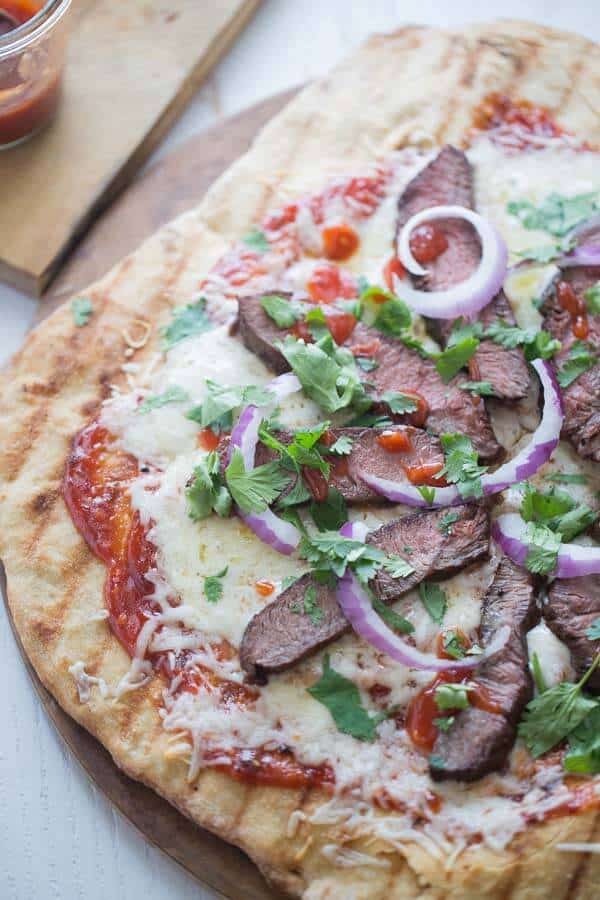 I am not one who ever craves a big, juicy steak. I guess you could say I just don't appreciate steak. This lack of appreciation probably has a lot to do with my upbringing. I don't come from a meat and potatoes kind of family; we were more of a "stew" kind of family where the stew was heavy on the vegetables and low on the meat. A steak was never, ever, ever in our dinner rotation.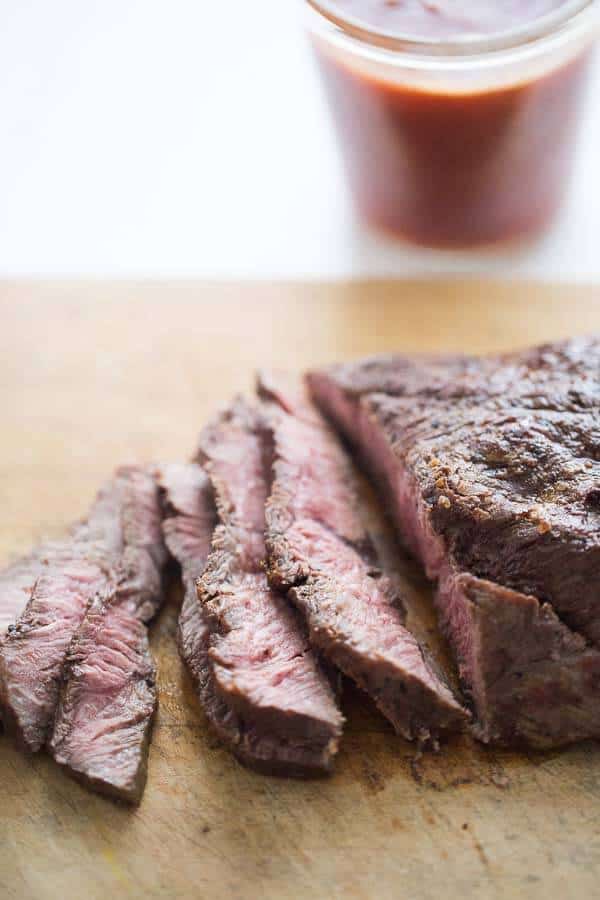 I married a man who loves to indulge on a thick, juicy steak from time to time. I like to be an accommodating wife, so I suck it up and attempt to make a good steak. I know the man cannot live quinoa and salmon alone. But, if I'm going to cook a steak, it's going to be my way. I'll season it and prepare it in a way that would make me happy too. I can only accommodate so much you know what I mean?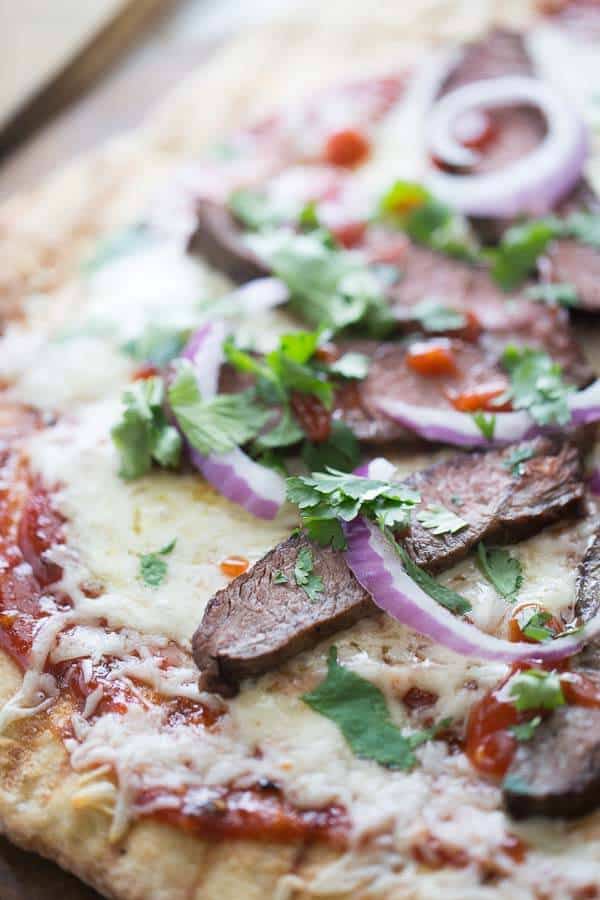 I wasn't in the mood to have my steak be the star of the show. So instead I made a bbq steak pizza made with chili garlic bbq sauce and a beer-infused pizza crust. The steak is lightly seasoned with salt and pepper and then pan seared. The pizza crust is quite simple to prepare. Flour, yeast, baking soda, salt, olive oil, and beer come together in a large bowl. A stand mixer with a dough hook makes short work of this whole process. I used a wheat beer, but you could use your favorite for this recipe, although I'd avoid anything too dark. You can allow the dough to rise for 30 minutes, or 2 hours; whatever works for you.
I grilled this pizza, however, you could just as easily prepare your pizza in the oven. Grilling pizza is incredibly easy and very quick. I love the texture of the pizza crust and the smoky flavor the grill lends the pizza. To grill your pizza, follow the recipe instructions. If you would prefer to bake your pizza in the oven, then preheat your oven to 450 degrees. Press your dough onto a round pizza pan that has been coated with non-stick cooking spray. Prebake your crust for about 5 minutes. Remove the dough, spoon on the chili garlic sauce, arrange the steak and cheese over the crust and bake an additional 15 minutes or until cheese has melted and crust is golden. Remove your pizza and top with onions, cilantro and another drizzle of chili garlic sauce. Serve and enjoy!
BBQ Steak Over Beer Pizza Crust
A simple grilled bbq steak pizza made with a homemade chili garlic sauce and beer-infused pizza crust!
Ingredients
4 cups all purpose flour
2 teaspoons instant yeast
1 teaspoon baking powder
1 1/2 teaspoon salt
2 tablespoons olive oil
1 12 oz bottle wheat beer (room temperature)
1 1/2 lb flat iron steak
1 teaspoon salt
1 teaspoon pepper
2 teaspoons olive oil
2 cups smoked gouda
1/2 cup red onion slices
1/4 cup chopped cilantro
Instructions
To prepare the pizza crust, combine flour through olive oil in the bowl of a stand mixer that is fitted with a dough hook. Slowly add in the beer and continue to beat in low until the mixture begins to come together. Increase the speed to medium-low and continue to beat another 5-7 minutes or until the dough becomes smooth. Remove dough and place it in a bowl that has been coated with olive oil or cooking spray, turning to coat. Cover the bowl and place in a draft-free area. Allow the dough to rise for 30 minutes or up to 2 hours.
To prepare the steak, sprinkle both sides of the steak with salt and pepper. Place steak on a preheated skillet that has been coated with non-stick spray. Sear steak for 7 minutes per side, remove from heat and allow steak to rest. After about 5 minutes, slice your steak into strips.
Spray your grill grates with non-stick spray. Preheat your grill to medium heat. When your dough is ready, flour your work surface and spread the dough out into a circle using either your fingers or a rolling pin. Flour a pizza peel (if you have one) or a rimless cookie sheet to transfer the dough from the counter to the grill. Brush one side of the dough with one teaspoon of olive oil and place dough onto hot grates, oiled side down. Close the grill lid and bake the pizza dough for 2 minutes; check to see that the underside has begun to brown. When the dough is ready, carefully slide your crust back to your baking sheet with tongs or a spatula. Brush the top side with remaining olive oil. Flip dough back onto the grill, oiled side down.
Top pizza with sauce (reserving two tablespoons), steak and cheese. Cover the grill and cook an additional 5 minutes or just until cheese has melted. Remove pizza onto your baking sheet. Top with onions, cilantro and drizzle with remaining sauce. Allow pizza to rest for a few minutes; cut and serve.
Notes
The dough recipes yields enough for two pizzas. Cover the second dough round with plastic wrap and refrigerate or freeze. When you are ready to use that second dough round, allow it to come to room temperature and continue and then allow it to rise.
Dough recipe adapted from King Arthur Flour
Nutrition Information
Yield

6
Serving Size

1
Amount Per Serving
Calories

893
Total Fat

36g
Saturated Fat

15g
Trans Fat

1g
Unsaturated Fat

17g
Cholesterol

158mg
Sodium

1791mg
Carbohydrates

80g
Fiber

4g
Sugar

9g
Protein

55g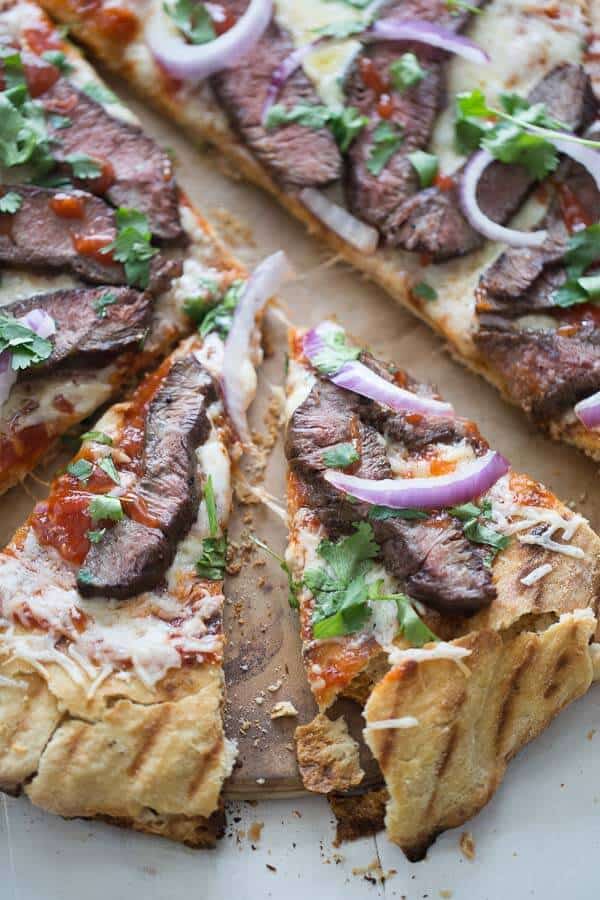 More Pizza Recipes:
Fast and Easy Philly Cheesesteak Pizza – Centercut Cook
Grilled Flank Steak Flatbread – Grandbaby Cakes
Disclaimer: Please note that some of the links in this post are affiliate links. There is no additional cost to you, but I may earn a small commission if you purchase through those links.