Easy and cheesy twice baked potatoes topped with a smoky barbecue chicken!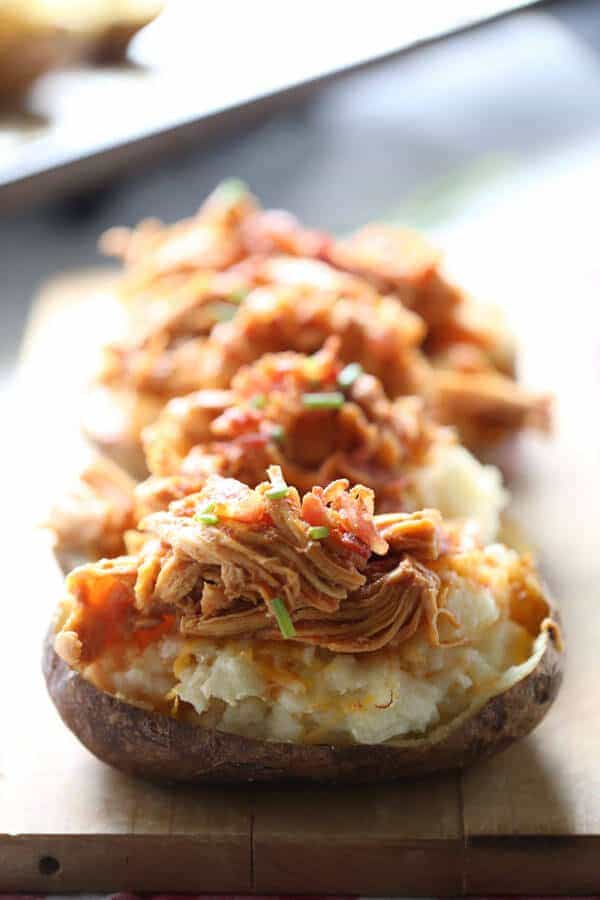 I made these barbecue chicken twice baked potatoes and they were amazing! You should make them too. The End…..
That sentence pretty much sums up how I feel about this recipe. These twice baked potatoes were fabulous and I really do think you should make them. I can't say one part is better than the other. The potatoes are JUST as good as the barbecue chicken and they work incredibly well together.
In general I think that the baked potato is taken for granted. It's only viewed as the side kick to a good steak; or as just an excuse to indulge in sour cream and butter. While both those are true, baked potatoes actually make a unique, filling and versatile meal. You could eat them plain, with veggies, with turkey and cheese, with bacon and cheese or as I've done here; twice baked with barbecue chicken.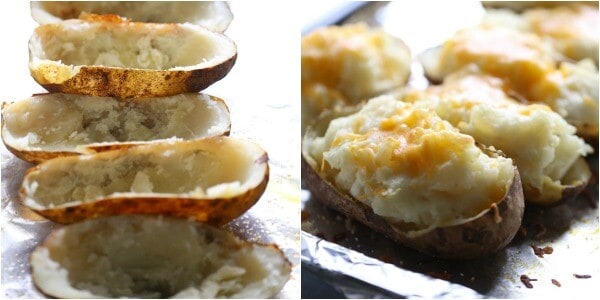 Twice baked potatoes are quite easy to prepare. They take time however, so be sure to plan ahead. Actually, this whole recipe takes some time, but boy is it worth it! The slow cooker does all the work for the barbecue chicken and the oven does all the work for the potatoes. You just get to sit back and take in the aroma!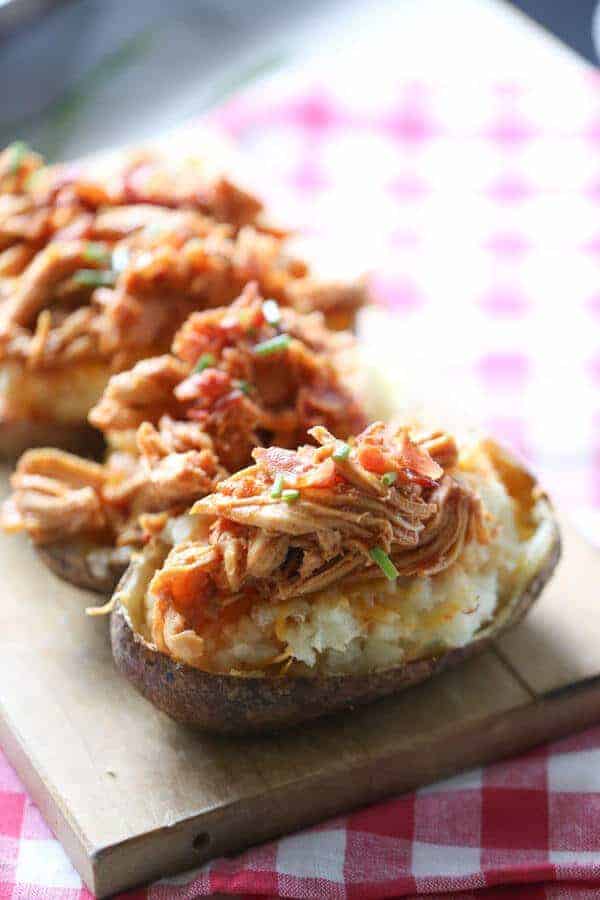 Notes about the recipe:
-Allow the potatoes to cool down just until they are easy to handle. Then cut each in half and scoop out the actual potato "pulp. You want enough of the meaty potato out of the shell so you can use it in the filling. However you don't want your shell to fall apart either. I tried to leave a small border of potato with the skin. This kept my shell firm.
– A note about the cheese: I used a bacon flavored white cheddar in my filling because I really wanted the bacon to shine through, which is why I also garnished the potato with bacon. Bacon pairs nicely with the whiskey in the bbq. You could use plain white cheddar or yellow cheddar.
-I mashed my potato mixture by hand with a potato masher. A food processor or a hand mixer will make your life MUCH easier.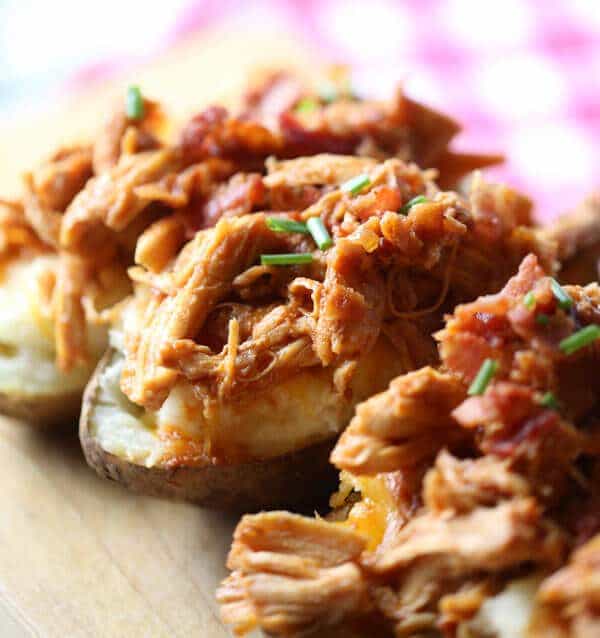 These twice baked potatoes are the side and the main course all in one! Dinner doesn't get better than this!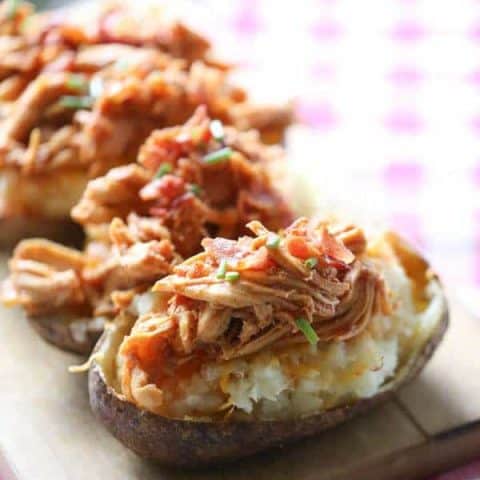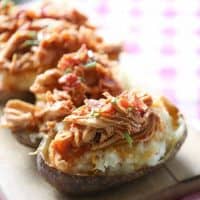 Barbecue Chicken Twice Baked Potatoes
Yield: 8

Prep Time: 4 hours

Cook Time: 1 hour 10 minutes

Total Time: 5 hours 10 minutes

A cheesy filled twice baked potato topped with BBQ chicken!
Ingredients
For the chicken
2 tablespoons finely chopped onions
1 clove garlic, minced
1 cups ketchup
1/2 cup brown sugar
2 tablespoons molasses
2 tablespoons cider vinegar
1 teaspoon chipotle chili powder
1/4 cup whiskey
1 tablespoon soy sauce
2 tablespoons Worcestershire sauce
1 lb chicken (about 4 chicken breasts)
For the potatoes
4 baking potatoes
olive oil, salt
3/4 cup sour cream
3/4 smokey bacon white cheddar cheese ( I used Cabot cheese)
2 tablespoons of milk
1 teaspoon salt
1/4 cheddar
2 strips bacon cooked and crumbled
chives
Instructions
In a bowl, combine onion, garlic, ketchup, brown sugar, molasses, vinegar, chili powder, whiskey, Worcestershire sauce and bacon in a bowl; stir. Place chicken breasts in a slow cooker. Cover with bbq sauce. Cover chicken and cook on high for 4 hours.
Preheat oven to 400. Rub potatoes with olive oil and salt. Place potatoes on a foil lined baking sheet. Prick each potato with a fork and bake for 1 hour, turning once.
Remove potatoes and let cool just until they are able to be touched. When they are ready, cut each potato in half, scoop out pulp, taking care to leave enough potato around the ring so that the shell is kept in tact.
Combine potato pulp, sour cream, shredded cheese, milk and salt. Mix until smooth and blended. Divide mixture among each potato shell. Place potatoes back on baking sheet. Sprinkle lightly with 1/4 shredded cheddar. Return potatoes to the oven. Bake another 10-15 minutes until browned and cheese bubbles.
Shred chicken and toss with sauce from slow cooker. To assemble place a generous amount of chicken over each potato. Top with bacon and chives.
Nutrition Information
Yield 8 Serving Size 1
Amount Per ServingCalories 505 Total Fat 22g Saturated Fat 7g Trans Fat 0g Unsaturated Fat 12g Cholesterol 115mg Sodium 959mg Carbohydrates 45g Fiber 2g Sugar 24g Protein 30g

Disclaimer: Please note that some of the links in this post are affiliate links. There is no additional cost to you, but I may earn a small commission if you purchase through those links.