These angel biscuits are so light and flakey!
Each biscuit is studded with cheddar cheese, bacon and flavored with ranch seasoning!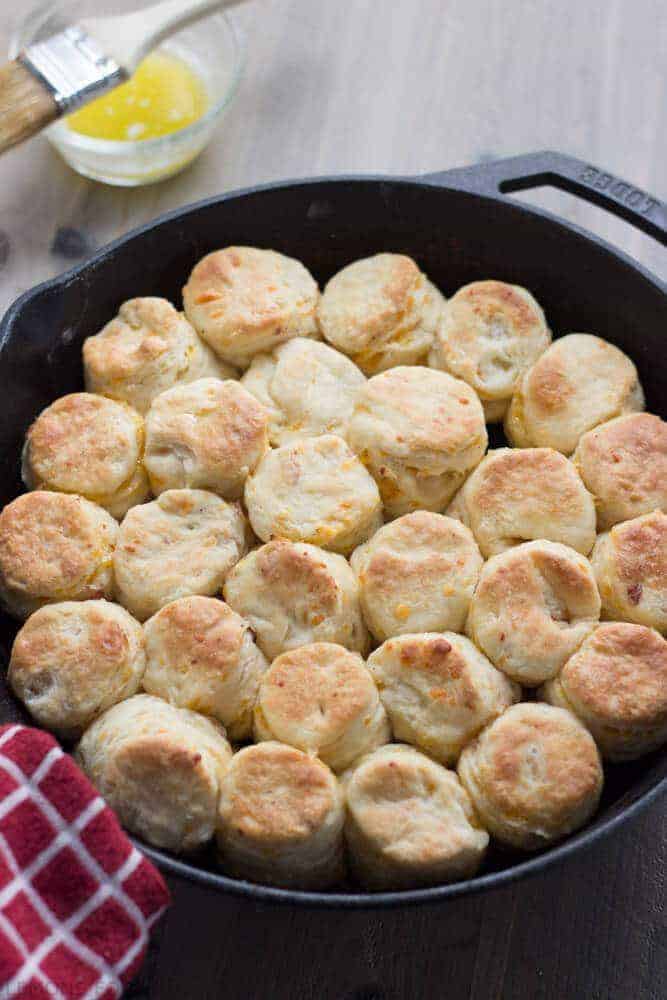 It's so hard being a make believe person. Between the toothfairy, the Elf, Santa Claus and the Easter Bunny, I'm just worn out. I have no more good ideas, no inspiration, no originality. It's rough.
I bring this up because my youngest just lost her first tooth. Somehow along the way my older kids set up a ritual where they leave a note asking the tooth fairy's name, and they leave a full glass of water sitting next to their beds. Someone told them once, that the glitter off the fairy will fall into the water as they come to deliver their goods. See what I'm up against? It's hard enough remembering to have the cash for the tooth let alone remember to color the water! And the notes? Let's just say I've gotten pretty good writing with my left hand. It's the clever names that stump me. I guess I'm just not that clever.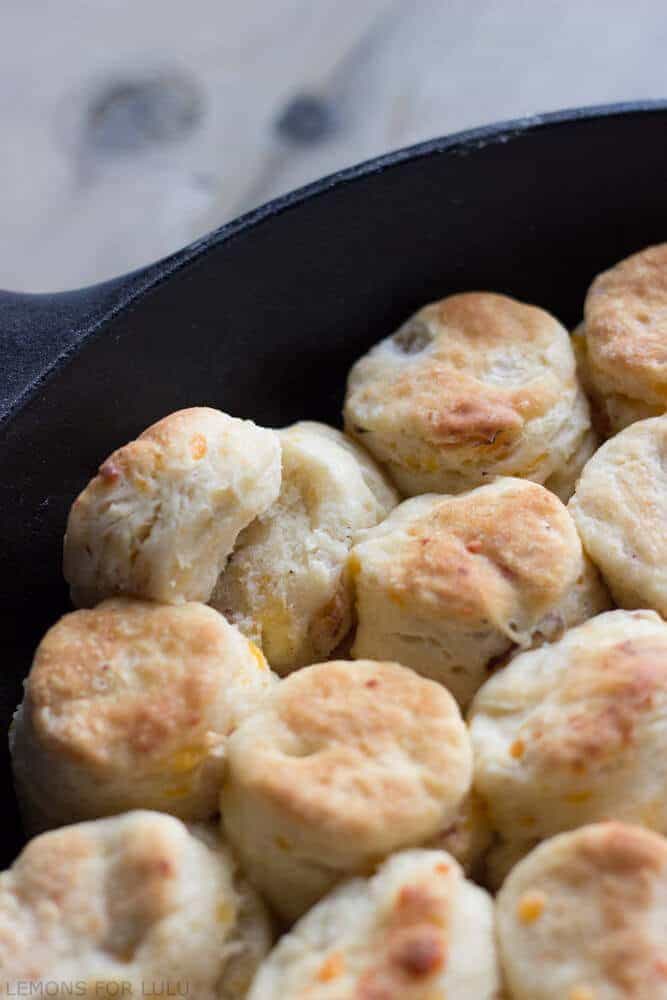 Elf on the Shelf time is practically here and I fear all my good Elf ideas have been used up. This year I'll have to go big or go home. Then of course there's doing the work of the big man himself-Santa. I have to remember to use the Santa wrapping paper (assuming I can find it), leave the fire place open, crumble the cookies that were set out the night before and of course, find the perfect gift.
All this work is fun, but certainly exhausting. Which means I need to make all the other holidays throughout the year as stress free as possible! I'll have to start with Thanksgiving since it is practically upon us. I know I'll be making a big, juicy turkey, several sides and these angel biscuits! Every table needs a basket of bread right? You need something to soak up all the gravy and sauce. These angel biscuits are so soft and tender with lots of creamy cheddar cheese, crispy bacon and a hint of ranch seasoning. These biscuits are good all year around, don't save them just for the holidays!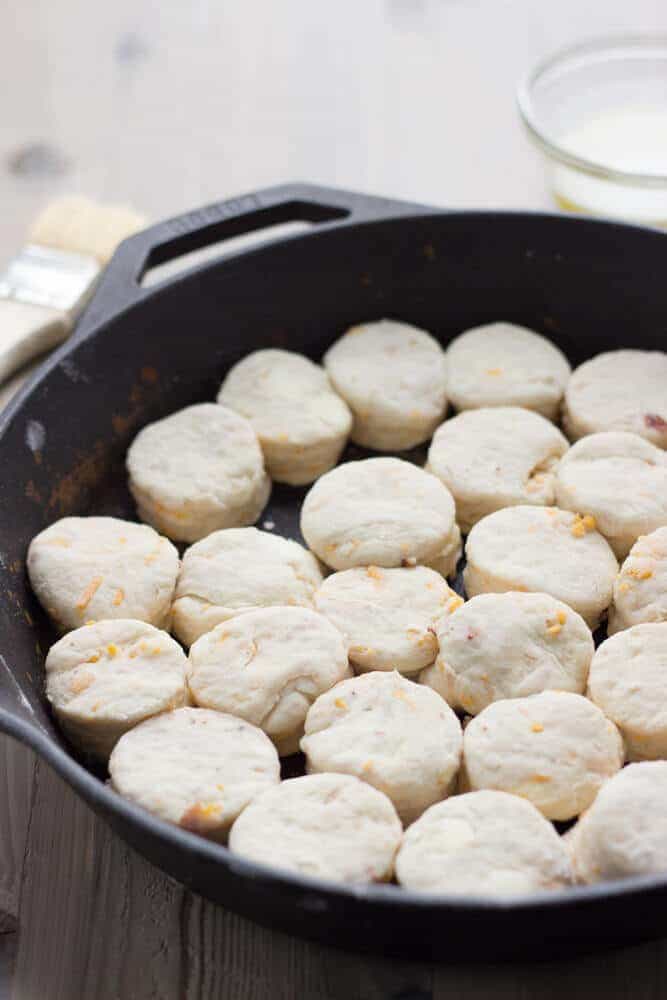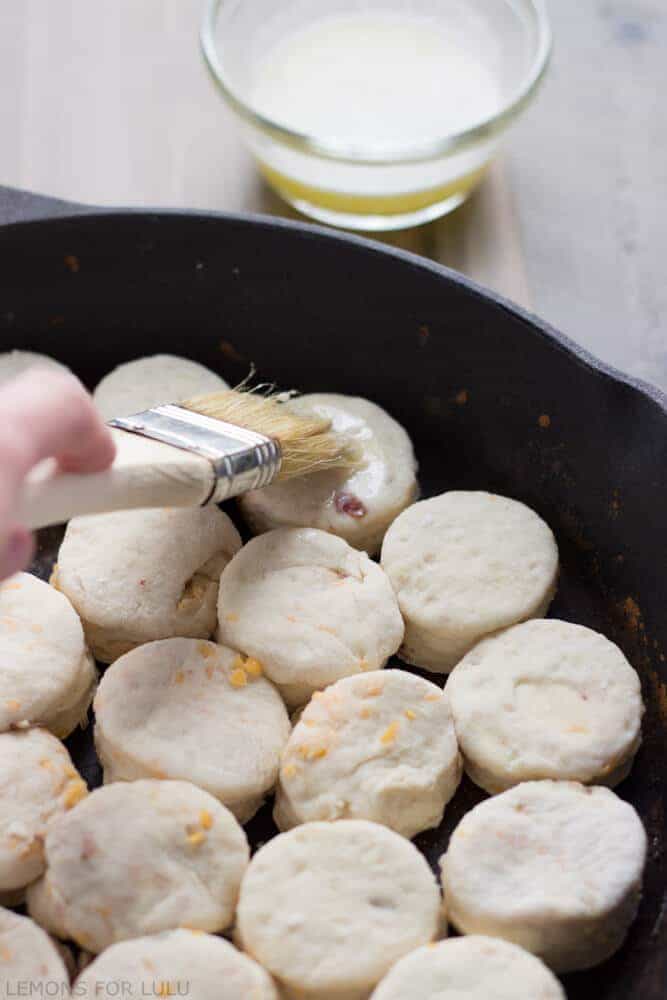 These angel biscuits are going to be such a hit, they just might upstage the turkey this year! Now that's a biscuit!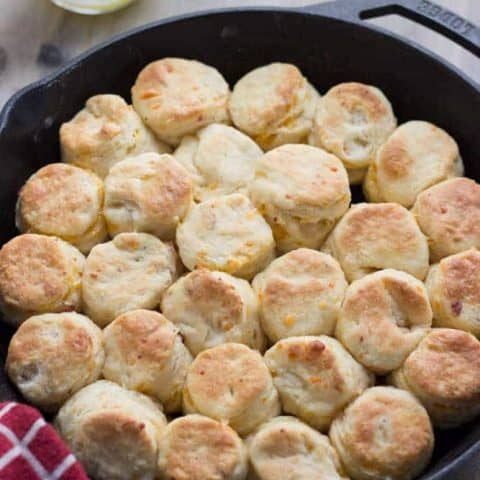 Bacon Cheddar Ranch Angel Biscuits
Prep Time:
2 hours
20 minutes
Total Time:
2 hours
40 minutes
Light and flakey cheddar bacon ranch angel biscuits!
Ingredients
1/2 cup warm water
1 1/4 oz envelope active dry yeast
1 teaspoon sugar
5 cups flour
3 tablespoons sugar
5 teaspoons baking powder
1 teaspoon salt
1 teaspoon baking soda
1/2 cup cold butter, cubed
1/2 cup shortening, cubed
2 cups buttermilk
1 cup shredded cheddar cheese
1/2 cup crumbled cooked bacon
2 teaspoons ranch seasoning (I used Hidden Valley Ranch)
1/4 cup butter, melted and divided
Instructions
Stir together first three ingredients. Let stand 5 minutes.
In a separate bowl, stir together flour, sugar, baking powder, salt, and baking soda. Cut in cold butter and shortening using a pastry cutter, or two forks just until combined. Mixture should be crumbly. Add buttermilk and yeast mixture. Stir just until incorporated. Add in cheese, bacon and seasoning until blended. Cover with plastic wrap and refrigerate for 2 hours.
Preheat oven to 400. Turn your dough out onto a floured surface. Knead, then gently roll dough into 3/4 inch circle. Fold dough in half, repeat. Roll dough once more into a 3/4 inch circle. Cut dough with a 2 in round biscuit cutter. Roll scraps as you go. Place biscuits in a 10 or 12 in cast iron skillet. Biscuits should be touching. Brush biscuits with 2 tablespoons of melted butter. Bake for 15-20 minutes or until golden brown. Brush with remaining butter.
Nutrition Information
Yield

24
Serving Size

1
Amount Per Serving
Calories

246
Total Fat

14g
Saturated Fat

7g
Trans Fat

0g
Unsaturated Fat

6g
Cholesterol

28mg
Sodium

462mg
Carbohydrates

24g
Fiber

1g
Sugar

3g
Protein

7g
*Notes about the recipe*
Allowing the biscuits to touch in the pan will help the biscuits rise higher.
I find the best way to mix the biscuit dough, is by hand. However, do not ovework the dough with your hands. Your hands will warm the butter. Cold butter will yield fluffier biscuits.
If you do not have a cast iron skillet. Cluster your bisuits in a circle on a parchment lined baking pan.
I often use sour milk in place of buttermilk. To make your own, place one tablespoon white vinegar or lemon juice in a measuring cup. Add milk until you have one cup.