Baked avocado fries with a simple breaded crust!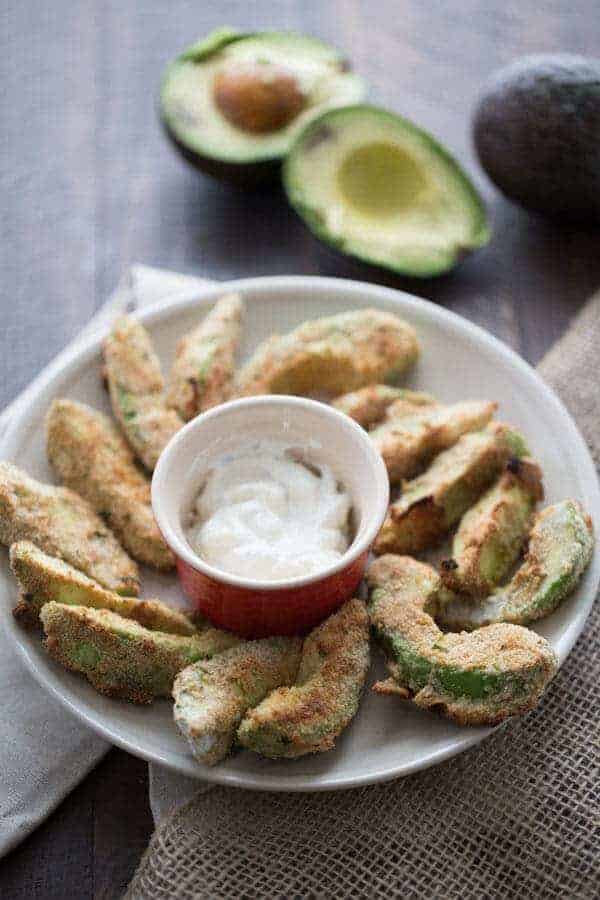 I cannot believe it took me this long to try avocado fries!  I adore avocados!  I like them in dips and in sandwiches.  Sometimes I am behind on cool things.
When I was in the seventh grade, I had to have a pair of Guess jeans.  They were all the rage back then.   I was a crowd follower and felt that I couldn't live without a pair of my own.  Unfortunately for me, they were kind of pricey.  My parents were frugal and preferred to buy no name brand clothes (gasp!).  I was forced to wear logo-less pants and that was that.
Months went by before I finally had my first and only pair of Guess jeans.  I cannot recall exactly why my parents relented, I can only assume the jeans were deeply discounted.  For all I know they were knock offs. I didn't care though because my back pocket finally displayed that famous triangular logo.  I'd wear my shirts tucked in just so everyone could see my jeans.   I was feeling pretty darn saucy.  Like most adolescent fashion trends, this one didn't seem to last long.  All the girls had moved onto the next best thing.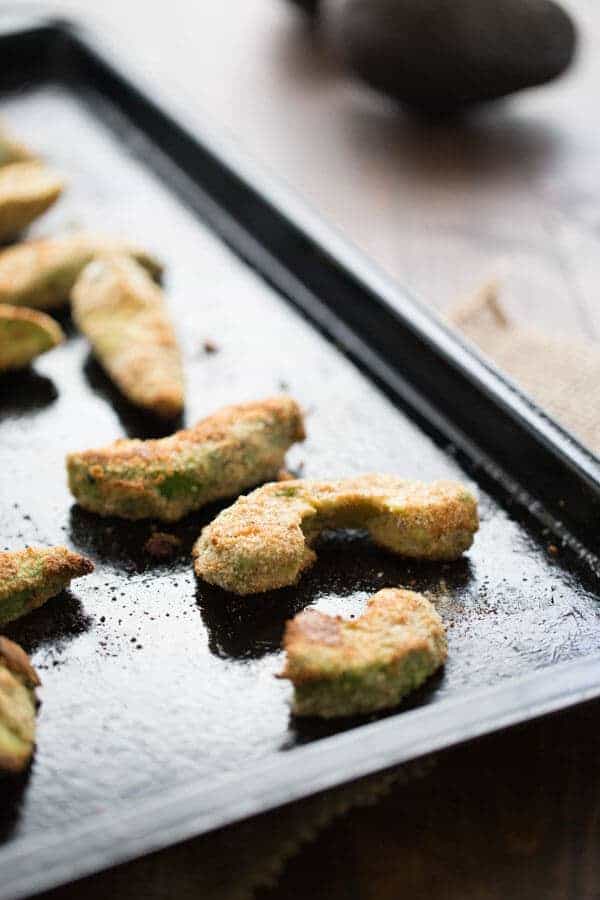 There are food trends much like there are fashion trends.  Food in a jar, food stuffed in food, food on sticks,  and waffled foods are just a few examples.  I feel somewhere in the last few years avocado fries made a brief blip in the trendy food files.  I failed to hop onto the band wagon back then.  I was probably stuck in the trends from by gone days because that seems to be the way I live my life.  So here I am finally trying avocado fries and I am loving them!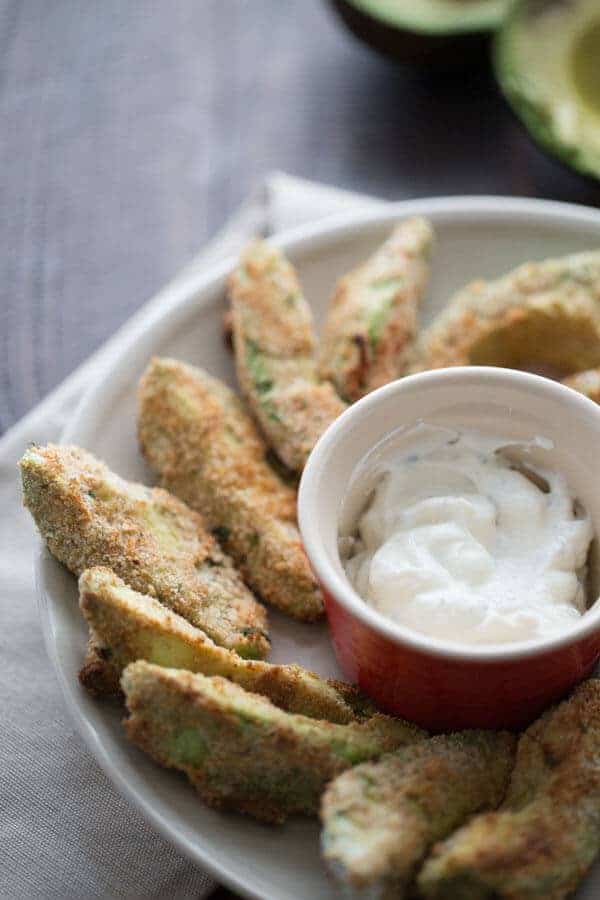 About the recipe:
I mistakingly assumed that avocados would melt when baked.  But that was all wrong!  For this easy recipe you start by dipping your avocado slices in flour then egg whites.  I'm not going to lie about this, your fingers will get messy.  After your avocado slices swim in the egg whites, dip them in well seasoned bread crumbs.  Panko bread crumbs would work but I preferred the fine texture of traditional bread crumbs.   Season your bread crumbs with salt, pepper and a little paprika and arrange your avocado slices on a greased baking sheet.  These avocado fries only take a total of 7 minutes to crisp up to golden perfection.
I made a quick Greek dip with sour cream, mayo a splash of lemon and Greek seasoning.  Then I sat down and ate the ENTIRE plate by myself.  Since I was eating healthy avocados, I didn't even feel guilty about it!
6
adjust servings
Simple, light and crispy avocado fries!
Ingredients
2

tablespoons all-purpose flour

1/4

teaspoon sea salt

1/4

teaspoon freshly ground black pepper

1/4

teaspoon paprika

1/4

cup plain breadcrumbs

2

large egg whites

2

firm, ripe avocados

Cooking spray
For the dipping sauce
3

tablespoons sour cream

1

tablespoon mayo

1

clove garlic, minced

1/4

teaspoons salt

splash of lemon juice

1/2

teaspoon Greek seasoning blend
Instructions
Preheat broiler. Set a baking pan in the oven while it heats.
Combine flour, salt, pepper and paprika in a shallow bowl. Place breadcrumbs in a second bowl and egg whties in a third bowl. Whisk egg whites until light and foam.
Halve your avocados, remove pits and slice into wedges. Carefully dip avocado in flour mixture, then egg whites and finally in bread crumbs; arrange on a baking sheet. Repeat process until all the slices have been coated. Spray avocados with non stick spray.
Place fries in the oven and broil for 5 minutes, flip avocados and broil an additional 2 minutes.
While fries are in the oven, combine sauce ingredients in a bowl. Serve alongside avocado fries.
Recipe adapted from Cooking Light.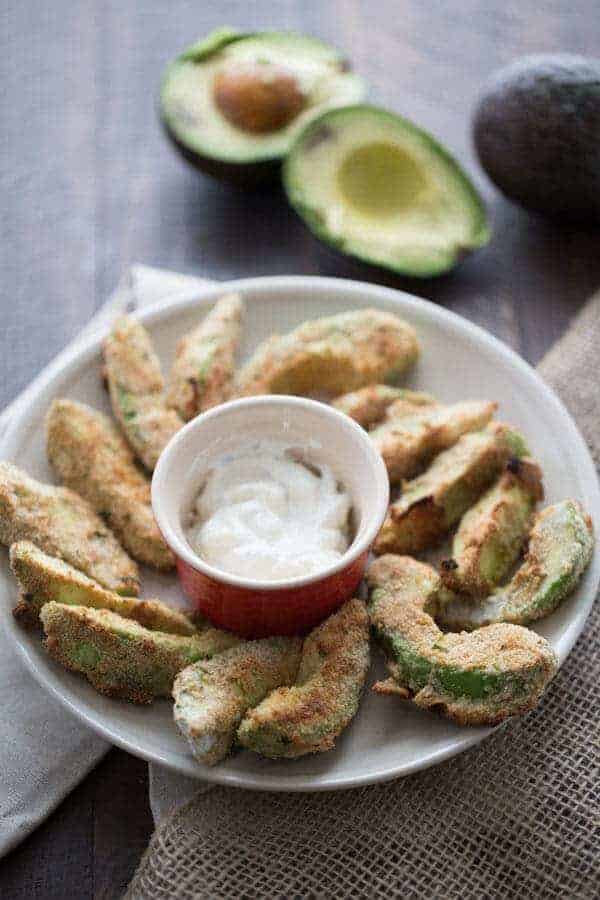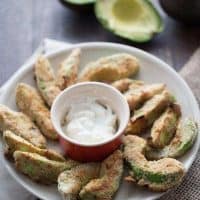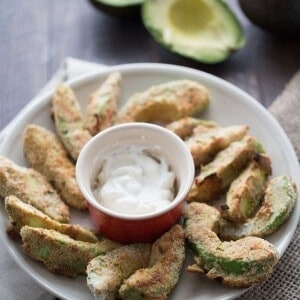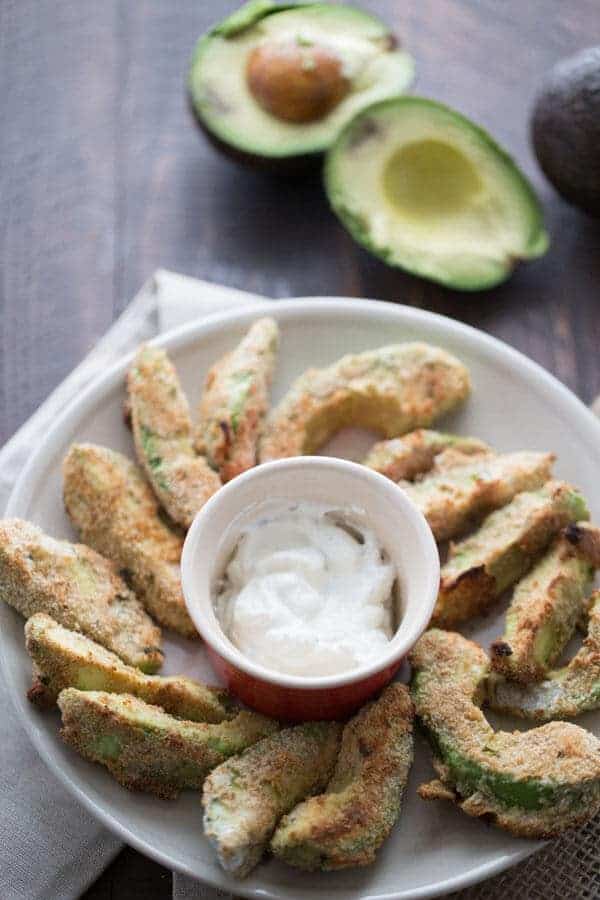 More avocado recipes:
Strawberry, Mango and Avocado Quinoa Salad – Spoonful of Flavor
Avocado Tuna Lettuce Wraps – Chelsea's Messy Apron
Pesto Avocado Melt – Lemon Tree Dwelling
I may be linking this up to these parties and to The Weekend Potluck!
Disclaimer: Please note that some of the links in this post are affiliate links. There is no additional cost to you, but I may earn a small commission if you purchase through those links.