An intensely almond cookie cup filled with a quick, easy mixed berry curd!
They are like little berry bite-sized pies!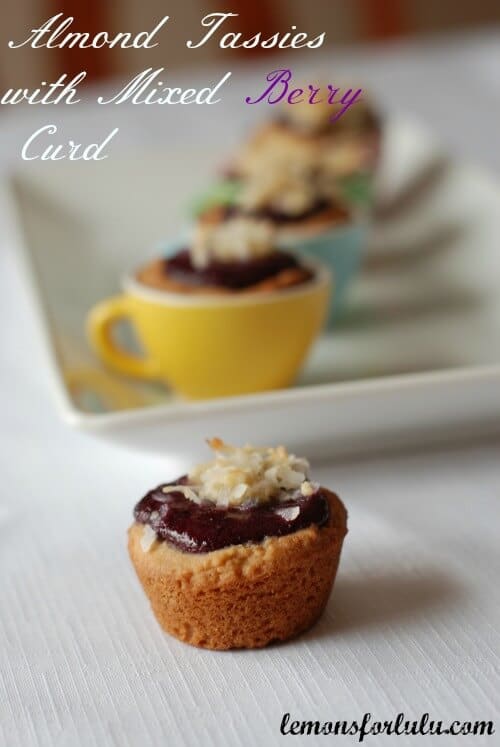 Here it is March and I'm seeing snow flakes.   Why is March so fickle?  I noticed my neighbor has little crocus buds peeping up from the ground.  Sweet green little shoots announcing the onset of spring.  I'm always filled with conflicting emotions when I see that sign.  I feel sorry for the little guys.  I know that  while spring IS right around the corner, old man winter isn't ready to leave.  I envision those tender little leaves shivering during the cold, dark winter nights regretting their eagerness to meet the world.  I know that crocuses are hardy enough to withstand the cold  air and freezing ground.  But I still can't help worrying about them.
I do not have a green thumb.   Apparently I'm the only family member without the ability to grow-anything.  Yet, I am tender hearted when it comes to my surrounding vegetation.  Christmas time is the worst.  Nothing is more depressing to me then when I see all the un-purchased Christmas trees standing slumped in the mall parking lot.  It's as though they feel lonely and unloved.    I assume they feel like I did back in gym class when I was the last one chosen ( I was't that athletic back then!).  I often have the urge to take as many Christmas trees as I can and plant them!    And what about those roses that are sold from buckets by men in vans?  What happens to all the unsold beautiful roses???  My heart aches.  They were living things once weren't they?  I know it's silly to project emotions on trees and plants, but I do.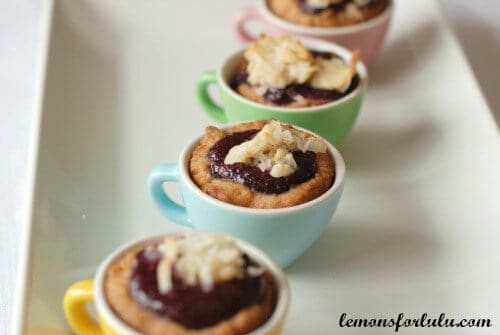 Those violet colored crocuses inspired me today.  I grabbed a bag of frozen mixed berries to make my own curd.  I love lemon curd, but wasn't in the mood for lemon today.  If you haven't made your own curd, I strongly suggest you hop to it!  This is all made in the microwave and takes about 10 minutes to make!  Seriously, it's that easy!  These little cookie cups are made with only a handful of ingredients.  Almond paste gives them that very pronounced almond flavor!  I love the combination of flavors and textures between the creamy, tart berry curd and the earthy almond flavored cookie.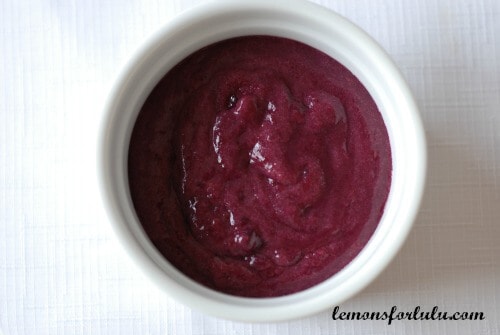 Honestly, the color of the berry curd is my favorite thing about these little cups.
Deep, rich and indulgent.  You'll want to double the recipe.
You might enjoy these too: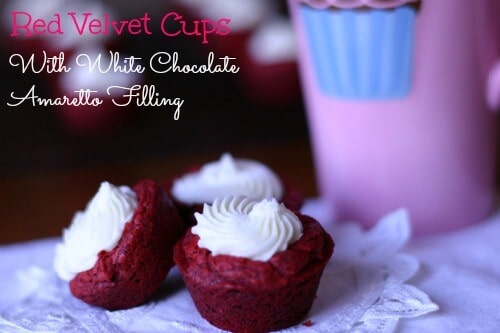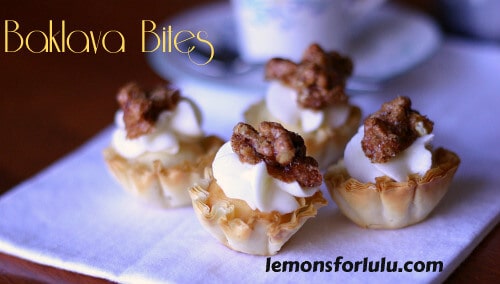 Want a little Lulu in your life?  Please subscribe via email | RSS | Facebook | Google + | Bloglovin
Check out my Pinterest Boards!
Almond Tassies with Mixed Berry Curd
Ingredients
Cookies

1

cup butter softened

1/2

cup brown sugar

1 7oz

can almond paste

1

egg

1

teaspoon vanilla extract

1/2

teaspoon baking soda

2

cups flour

1/2

cup coconut

Berry Curd

8

oz mixed berries frozen, thawed

2

eggs

1/2

cup sugar

1/2

cup butter
Instructions
First make the curd. Puree thawed berries in a food processor until smooth. In a bowl, combine sugar and eggs. Add berries and butter. Microwave in one-minute intervals until berries are thick enough to coat the back of your spoon. This took about 5 minutes. Cover with plastic wrap and chill until ready.
For cookies:
Combine softened butter, brown sugar and almond paste. Be it the egg and vanilla. Slowly beat in flour and baking soda. Coat a mini muffin tin. Reserve one cup of dough, set aside. With the remaining dough place a one-inch ball in each muffin tin. Spread to coat the sides. Bake in a 350 degree pre heated oven for 12-14 minutes or just until cookies begin to brown. Remove and fill with berry curd. Stir coconut into remaining dough and crumble over each cookie. Return to oven for about 10 minutes.
Let stand in pan for 2-3 minutes before removing to a cooling rack.
Makes 36