Chocolate and vanilla cakes hugging sweet peanut butter filling!
Each little whoopie pie tastes just like a Tagalong-a favorite Girl Scout Cookie!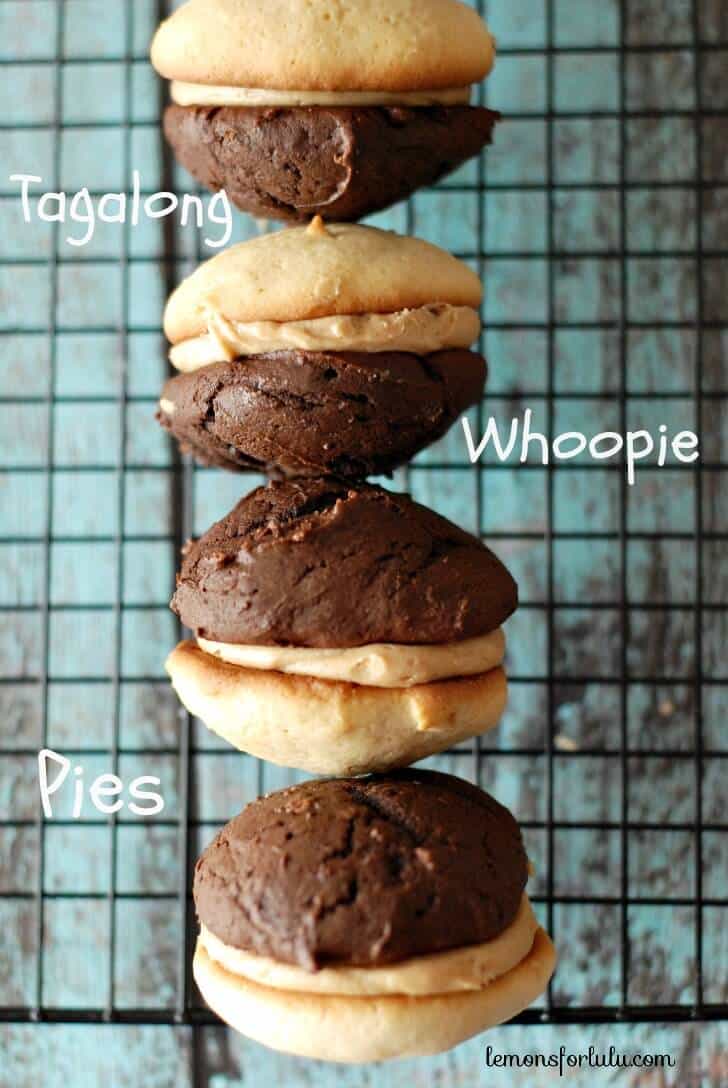 I almost missed out on ordering Girl Scout cookies this year, but then my neighbor and her daughter swooped in at the 11th hour to save me!  I can't go a year without those colorful little boxes.  I know they are over priced and that each box barely contains enough for one person, but I really love them.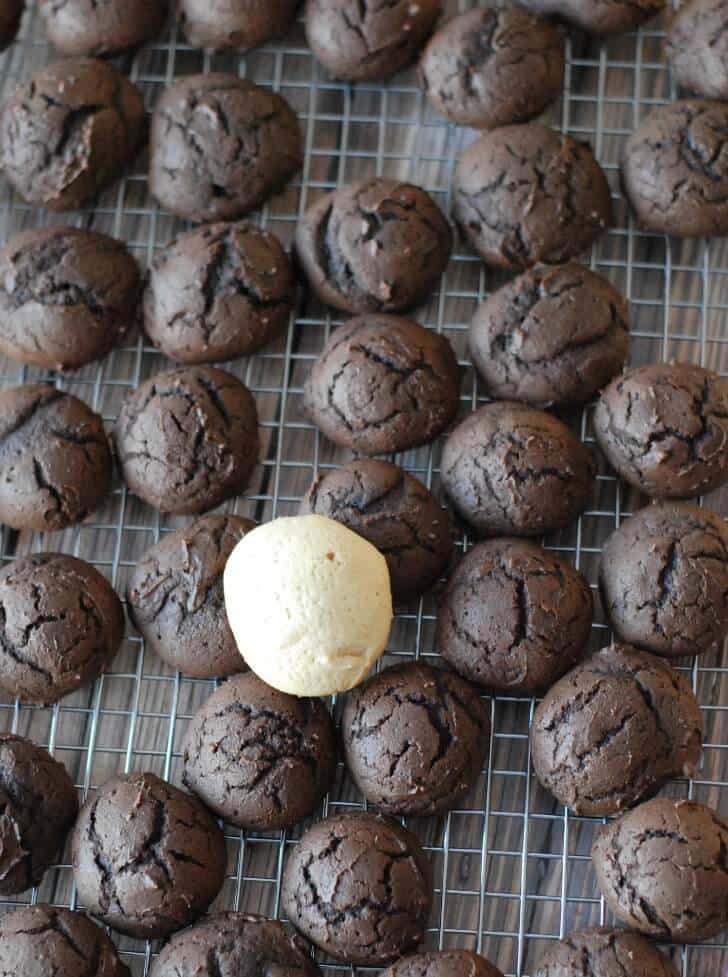 Tagalongs, Samoas, Lemon Creams, Do Si Do's, Thin Mints….I bought them all.  Mainly because I can't decide which I like the most.  Plus, each member of my family has a different favorite.  That means we HAVE to buy several boxes of each flavor.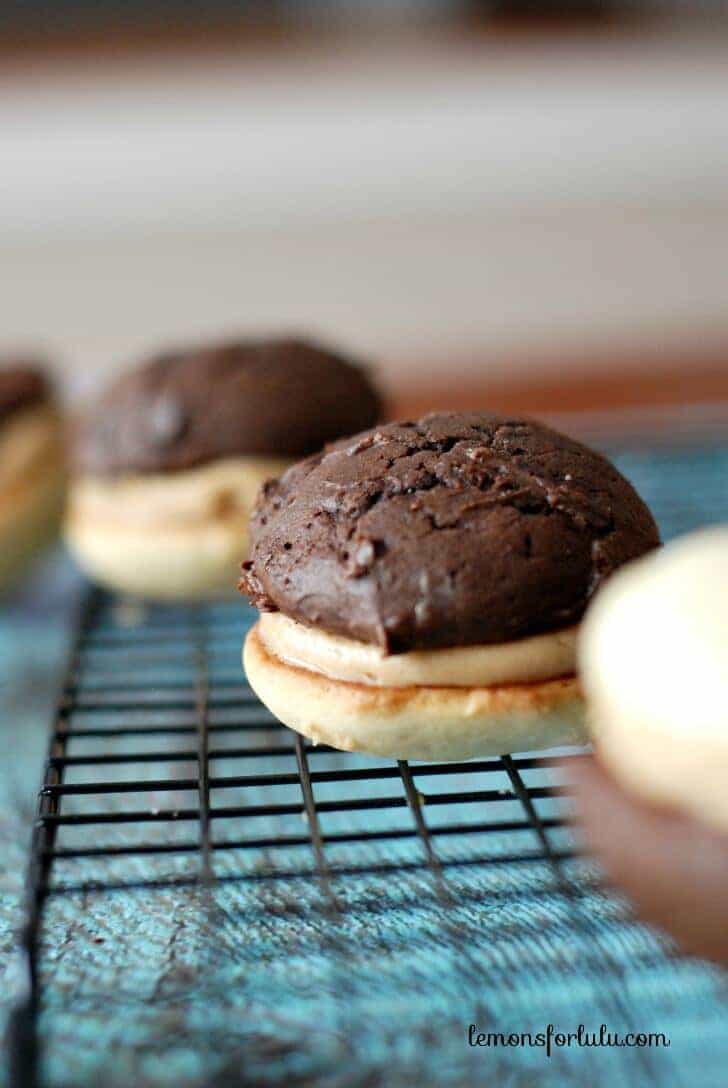 A few years ago my daughter sold Girl Scout Cookies.  That was the year we had cookies in our freezer until July.  My daughter got her "prize" for selling a boat load of cookies and my cravings were satisfied for months.  It may have been a bit excessive.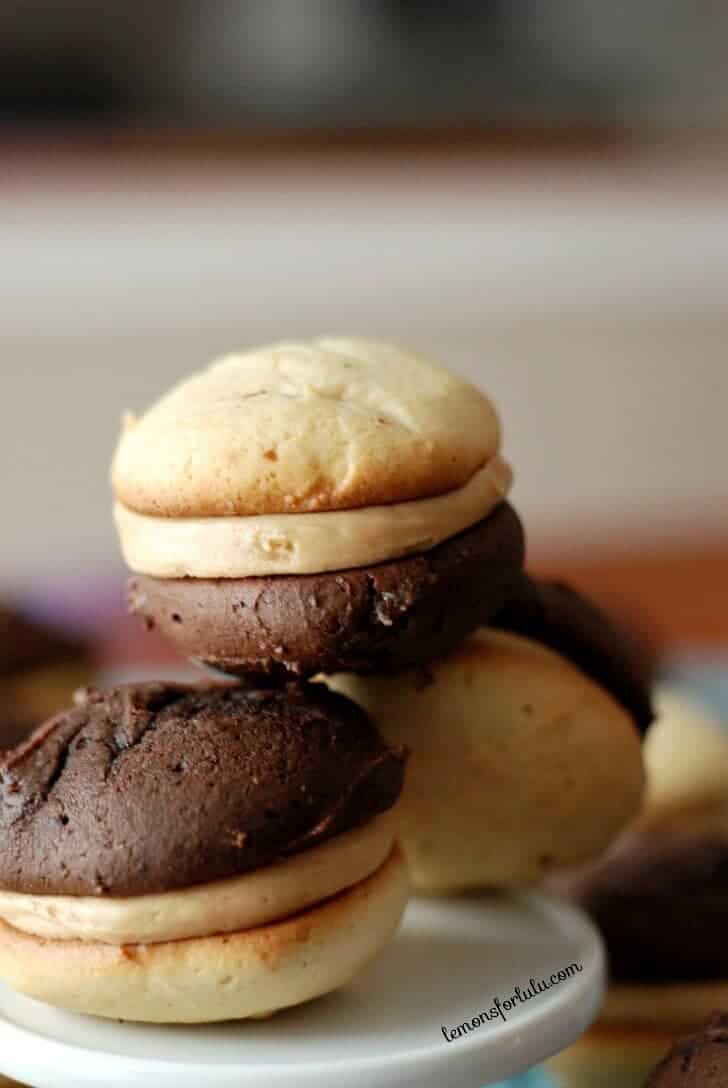 I feel like a dog waiting for the mailman, I'm totally ready to pounce on my little neighbor girl when she comes to deliver my beloved cookies!  I'll scoop up my boxes and tear into it with an unabashed hunger!  My only problem will be which box to dive into first?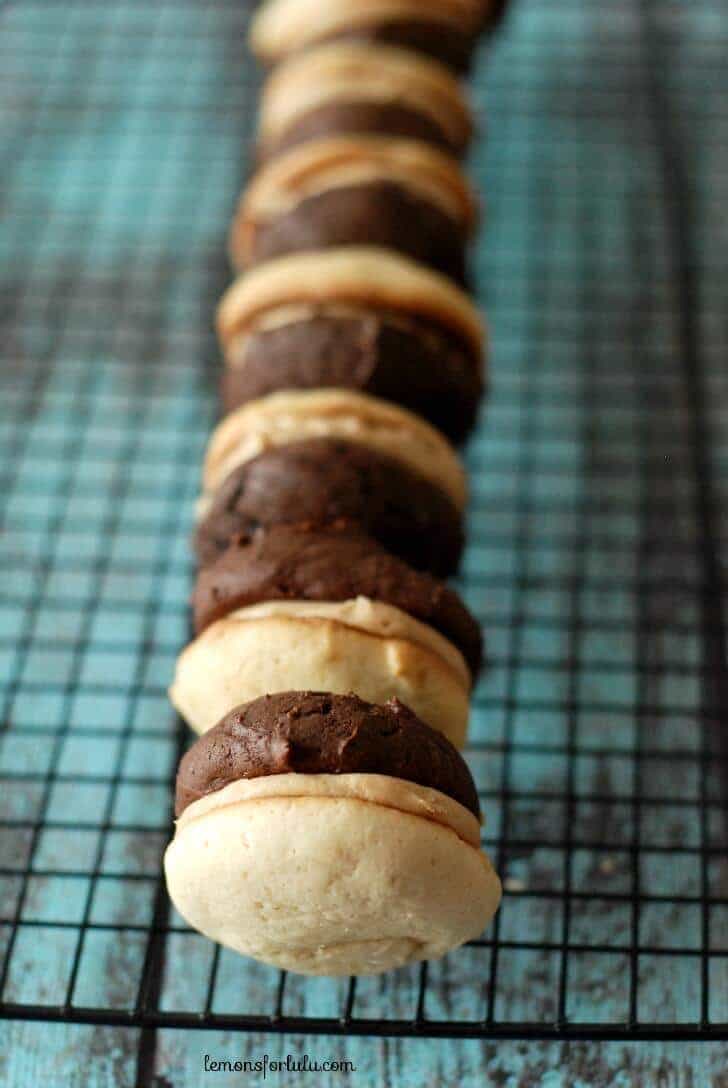 Since my hands are empty (no little cookie boxes), I had to bide my time by making my own Girl Scout inspired baked goods.  Last year I satisfied myself with Samoa Popcorn and Samoa Biscotti.  This year I made Samoa Cinnamon Rolls (coming soon) and these Tagalong Whoopie Pies!  They completely satisfied my craving!  The chocolate and vanilla cakes with the peanut butter filling were just what I needed!  All the Tagalong flavor right there in soft, two-toned cakes!
WHOOPIE!!!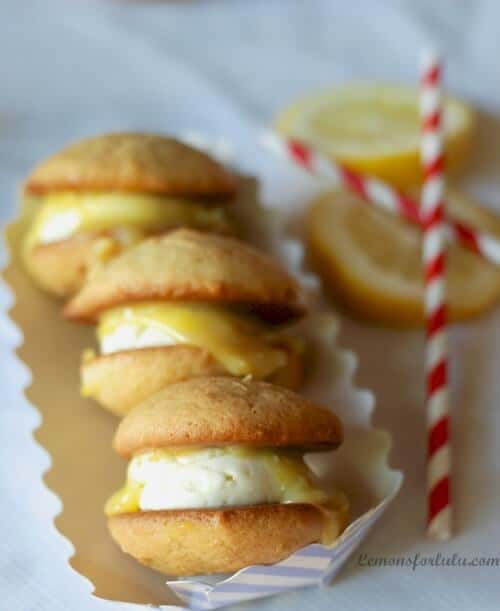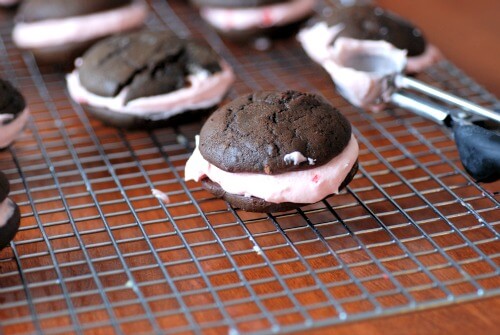 NEVER MISS A RECIPE! SUBSCRIBE TO MY EMAIL TODAY!
FOLLOW ME:
FACEBOOK | TWITTER| GOOGLE +| BLOGLOVIN | INSTAGRAM
Don't forget you can save each of these recipes to your personal recipe box , create your own meal plan, or add ingredients for each recipe to your shopping list! Just use the "Save Recipe" on all my recipes!
Tagalong Whoopie Pies
Ingredients
For the chocolate cakes:
1⅓ cup flour
⅓ cup unsweetened cocoa
¾ teaspoon baking soda
¼ teaspoon salt
2 tablespoons unsalted butter, softened
2 tablespoons shortening
½ cup brown sugar
1 egg
½ teaspoon vanilla
¾ cup milk
Vanilla cakes:
1⅛ cup flour
¾ teaspoon baking powder
¼ teaspoon salt
2 tablespoon unsalted butter, softened
2 tablespoons shortening
¼ cup sugar
¼ cup brown sugar
1 egg
¼ cup buttermilk
1 tablespoon milk
½ teaspoon baking soda
½ teaspoon vinegar
½ teaspoon vanilla
The Peanut Butter Filling
Peanut butter filling:
¼ cup butter softened
½ cup creamy peanut butter
1 cup powdered sugar
1 teaspoon vanilla
2 tablespoon milk
Instructions
For the chocolate cakes:
Preheat oven to 375. Be sure you have a rack in the center of your oven. Line two baking sheets and set them aside.
Stir together flour, cocoa powder, baking soda and salt in a small bowl, set aside. In a mixer, stir together butter, shortening and brown sugar on low speed just until they are combined. Increase speed to medium and beat butter for about 3 minutes or until light and fluffy. Add your egg and the vanilla.
With the mixer on low, beat in half of the flour mixture and half the milk until incorporated. Mix in the remaining flour and milk until completely combined.
Using a small cookie scoop, drop batter onto prepared cookie sheets, keeping them about 2 inches apart. Bake for 10 minutes or until cakes spring back lightly when touched. Let cool on the cookie sheet for 5 minutes. Remove to a cooling rack.
For the vanilla cakes
Preheat oven to 375. Line two baking sheets and set aside. Combine flour, baking powder and salt in a small bowl and set aside.
In a mixer combine butter, shortening and sugars beating until fluffy, about 3 minutes. Add egg and buttermilk and continue beating just until combined.
In a small bowl, combine milk, baking soda and vinegar. Stir in milk mixture and flour mixture to the batter on low, mixing until combined. Stir in vanilla and continue to mix for about 2 minutes.
Spoon a tablespoon of batter on your cookie sheets. Bake for 10 minutes or until cakes spring back lightly when touched. Cool on cookie sheets for 5 minutes.
For the filling:
Combine butter and peanut butter in a mixer and beat until creamy. Carefully mix in powdered sugar, vanilla and milk until smooth, adding more milk if necessary.
To assemble, pipe filling onto a vanilla cake and top with chocolate cake.
Makes 24
Cakes adapted from Whoopie Pies by Sarah Billingsley and Amy Treadwell
SEE THIS ON MY PINTEREST BOARD!
Follow Tanya Schroeder @lemonsforlulu.com's board Desserts on Pinterest.


I may be linking this up to these parties and to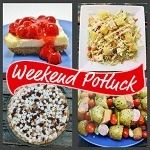 Want more Tagalong?
Tagalong Peanut Butter Trifle – What's Cooking Love?
Tagalong Peanut Butter Parfaits – My Baking Addiction
Ta