Strawberry desserts have a way of reminding us of summer.  The fresher the better!
I love cookies recipes that use fresh ingredients like strawberries, they intensify the flavor and keep the cookie moist!
This weeks
Iron Chef Mom Party 
 ingredient is strawberry!   My family devours strawberries, I mean we go through pounds a week!  I especially love baking with fresh fruit!  I love using bananas for
bread
 or strawberries to frost
brownies
!   Fresh fruit adds such pure flavor not to mention texture!
Ricotta cheese is another favorite ingredient of mine.  It keeps everything moist without altering the flavor.  This was such a delicate, moist cookie.  It was almost like eating little strawberry cakes!  The glaze is pure strawberry heaven.  There is a hint of cinnamon too!  I love the color and the flecks of real strawberry on each cookie.  These are a real treat!  Luckily, strawberries are available year round!  Which means we can eat these cookies all the time!
YOU MIGHT ENJOY THESE TOO: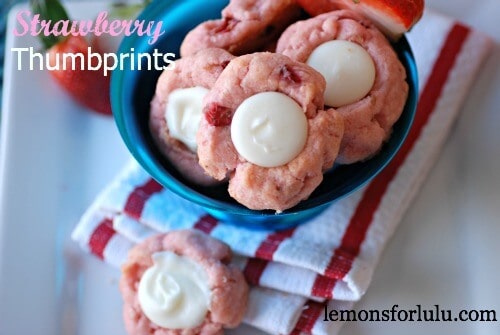 Chocolate Cupcakes with Strawberry Buttercream
Strawberry Ricotta Cookies
Ingredients
Cookies
2 ½ cups flour
1 t baking powder
1 t salt
1 stick unsalted butter, softened
2 cups sugar
2 eggs
1 15 oz container ricotta cheese
2 t vanilla
½ t almond extract
1 cup strawberries, chopped
Glaze
Strawberry Glaze
2 cups powdered sugar
2 t vanilla
3-4 T milk
½ cup strawberry puree
½ t cinnamon
Instructions
Preheat oven to 375.
In a medium bowl, combine flour, baking powder and salt. Set aside
In a large bowl, combine butter and sugar. Beat for 3 minutes or until smooth. Add eggs, one at a time, beating well after each addition. Add ricotta, vanilla and almond extracts. Slowly add in dry ingredients mixing well. Fold in strawberries. Drop by tablespoon full on a lined baking sheet. Bake for 15 minutes. Allow to cool on baking sheet for 20 minutes. Frost with glaze.
Combine powdered sugar and vanilla in a bowl. Add milk and whisk until combined. Stir in puree and cinnamon, adding more milk until you get spreadable consistency (to make strawberry puree, add ¾ cup chopped strawberries to a food processor. Drain excess liquid through a fine strainer)
WANT MORE LULU? SUBSCRIBE TO MY EMAILS!
OR FOLLOW ME:
RSS | FACEBOOK | TWITTER | GOOGLE + | BLOGLOVIN
SEE THIS ON MY PINTEREST BOARD
<
<
<
<
 I'm sharing this with:

Sharing this with these sites as well as to Jam Hands, Back for Seconds and