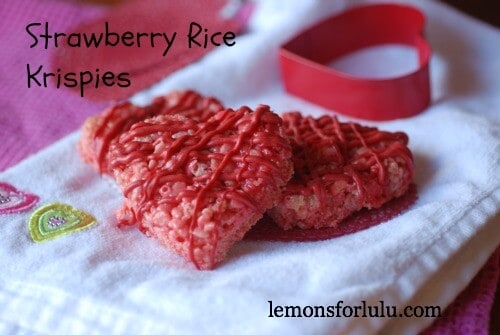 It's no secret that I am NOT a big fan of Jello.  At least not in the wiggly, jiggly, traditional sense.  I have too many memories of Jello molds with raisins, carrots and apples.  Ack!  But I used Jello today.  I'm actually glad I did!  Only strawberry gelatin could turn my Rice Krispies the perfect shade of pink for these hearts.  The bonus was the strawberry flavor enveloping each rice puffed morsel.  Lip smacking good!  I suppose Jello has survived the decades for a reason.  Perhaps I'm being way too hard on Jello.  And I admit that it's possible I've underestimated the power of Jello.   While I'm not ready to bring back the Jello molds or create Jello salads, I will say that someday, I may even buy another box of Jello.   Thats saying a lot!
Strawberry Rice Krispies and a Giveaway
Ingredients
¼ cup butter
4 cups mini marshmallows
5 cups Rice Krispy cereal
1 box strawberry flavor gelatin (3 oz)
1 cup red chocolate candy melts
Instructions
Melt butter and marshmallows in a large saucepan. Stir until completely smooth and melted. Remove from heat and stir in cereal and jello. Pour into a greased 9x13 pan. Let cool completely.
When cereal has cooled, cut in heart shapes with a cookie cutter. Re using scraps. Set hearts apart on a rack with wax paper underneath.
Melt candy in a bowl in 30 second intervals until completely melted, stirring until smooth. Pour chocolate into a zip top baggie. Snip a corner and drizzle over Rice Krispy hearts. Let set.
Store in an airtight container.
Makes 16
And now for some big news!!!  I'm so excited for my first giveaway!  I've joined an amazing group of bloggers to bring you this:
Kindle Fire Giveaway brought to you by:
Giveaway runs from Friday the 18th at 12 a.m. to Friday the 25th at 12 a.m.  A $50 Amazon gift card will be given away with the Kindle Fire.  Good luck!