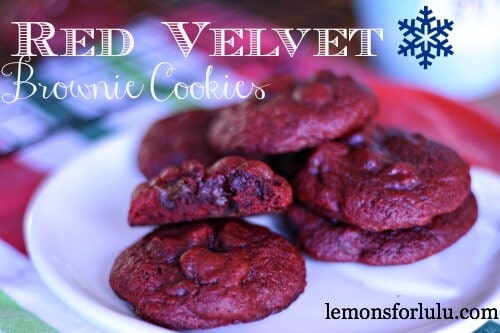 I'm going to say something I never imagined I'd say.  I'm chocolate-ed out.  I baked so much today, that I couldn't even eat one single mini chip.  I guess there really is a first time for everything.
I've been baking daily since…..well, lets just say everyday for a long time!  I keep making things that weren't planned.  See back in January, I made a list of Christmas cookies that I wanted to make (yes, I said January.  I like to plan ahead).  It was a short list.  I thought I'd keep it simple.  But, I never keep things simple.  Besides, back in January, I wasn't as addicted to Pinterest!  So here I am making all sorts of extra goodies.   Thankfully I have a few freezers, because, realistically, we aren't eating all this stuff.  Guess what teachers are getting this year?
So, back to my anti chocolate taste buds.    I'm pleased to report that by the time dinner  was over,  I was able to sample these totally amazing Red Velvet Brownie Cookies!  I wasn't even going to make these cookies.  But, what's Christmas without Red Velvet??  That would be like Easter without Peeps!  So I thought I'd combine Red Velvet and my favorite chocolate cookie-the brownie cookie.  You know what happened?  The best cookie EVER, thats what happened!  These red velvet brownie cookies are so rich and full of chocolate.  They are incredibly moist too.  Biting into these cookies is  just like biting into a very fudgy brownie.   And of course they are festively red and oh so velvety!   I already know these will be going on my must make cookie list for 2013!   As I said, I like to plan ahead!
If you'd like a little Lulu in your life, please subscribe via email, RSS, Facebook or Google +.  I love keeping in touch with friends!
You might like these too:
Chocolate Chunk Mocha Cookies                                                 

Lemons for Lulu 
Peppermint Thumbprints                                                            

Lemons for Lulu
Red Velvet Cookies with White Chocolate                                 

Piece, Love and Cooking
Lemons for Lulu
Yields 36
Red velvet brownie cookies are rich,moist and full of intense chocolate.
1 hr, 10 Prep Time
7 minCook Time
1 hr, 17 Total Time
Ingredients
2/3 cups butter, softened
1 1/2 cups brown sugar
2 eggs
1 t vanilla
1 t distilled white vinegar
1 T red food coloring
1 1/2 cups flour
1/3 cup unsweetened cocoa powder
1/4 t baking soda
1/2 t salt
2 cups semi sweet chocolate chips
Instructions
In a mixer, combine butter and sugar, beating until creamy. Beat in eggs one at a time. Add vanilla, vinegar and food coloring. In a separate bowl, combine flour, cocoa powder, baking soda, and salt. With mixer on low speed, carefully add flour mixture until well blended. Stir in chocolate chips. Refrigerate dough for at least an hour.
Preheat oven to 375. Using a small cookie scoop, roll dough into 1 1/2 inch balls and place on a baking sheet. Bake in oven for 7-9 minutes. Let cool on baking sheet for 2 minutes before removing to a rack to cool.
Makes 3 dozen
http://www.lemonsforlulu.com/red-velvet-brownie-cookies/
 I'll be linking this recipe up to these fabulous sites as well as to:
Jam Hands, The DIY Dreamer and