Chocolate Caramel Shortbread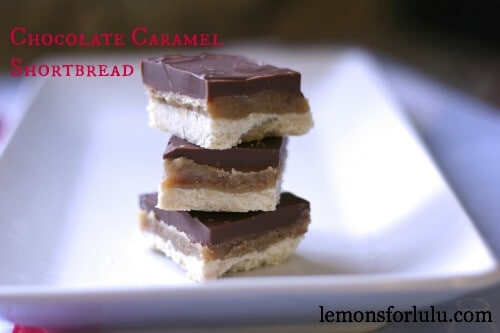 Recipe type:
Dessert, bars
⅔ cup butter, softened
¼ cup sugar
1¼ cup flour
½ cup butter
½ cup brown sugar
2 Tablespoons light corn syrup
½ cup sweetened condensed milk
1 12 oz package milk chocolate chips
Preheat oven to 350. In a medium bowl, mix together ⅔ cup butter, sugar and flour. Dough will be crumbly. Press into a 8x8 in square pan. Bake for 20 minutes.
In a saucepan, combine ½ cup butter, brown sugar, corn syrup and condensed milk. Bring to a boil. Let boil for 5 minutes. Remove from heat and stir with a wooden spoon for about 3 minutes. Pour over crust. Let cool until caramel sets.
Melt chocolate in a microwave safe bowl for 1 minute. Stir, continue melting in 15 second intervals until chocolate has completely melted. Pour over caramel layer, using an offset spatula to spread out and smooth. Chill until chocolate has set, about 30 minutes. Cut into squares.