Praline Blondies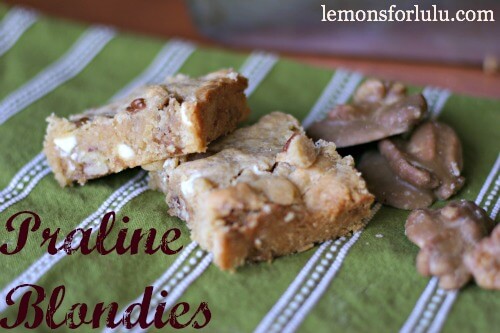 Recipe type:
candy, dessert
1 cup butter, softened
1 ½ cups brown sugar
2 eggs
1 T vanilla
3 cups flour
1 t baking powder
1½ cups white chocolate chips
1 ½ cup pralines, chopped
FOR THE PRALINES
2 cups brown sugar
¼ cup water
¼ evaporated milk
2 cups pecans, chopped
2 t vanilla
3 T chilled butter, cut into pieces.
Preheat oven to 350. Lightly grease a 13x9 pan, set aside.
In a mixer, beat together butter and brown sugar until creamy. Mix in vanilla and eggs until well incorporated.
In a small bowl, combine flour and baking powder. Slowly add flour mixture to butter mixture, beating until well blended. Stir in chocolate chips and pralines.
Pour batter into prepared pan. Batter will be very thick. . Bake for 25-30 or until set. Edges will pull away, but brownies should still be moist.
For the pralines:
Combine sugar, milk and water in a large saucepan. Bring to a boil on medium heat, stirring constantly. Cook until mixture reaches 235 degrees on a candy thermometer. Remove from heat and stir in pecans, vanilla and chilled butter. Quickly drop mixture by tablespoons onto a wax paper lined baking sheet. Let cool completely to set. Makes about 3 dozen candies.