Chocolate Marshmallows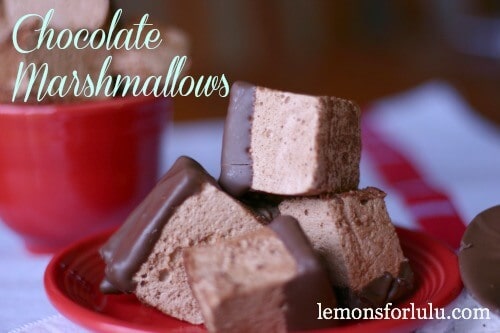 3 T unflavored gelatin
1 cup cold water, divided
¼ cup unsweetened cocoa powder
¼ cup boiling water
2 cups sugar
½ cup light corn syrup
2 egg whites
1 t vanilla extract
1 t chocolate extract
¼ t salt
grated chocolate.
Lightly spray 9x9 baking pan. Dust with cocoa. Set aside.
In a small bowl, combine gelatin and ½ cup water, set aside. In a separate bowl combine ¼ cup cocoa and boiling water. Set that aside. In a saucepan, combine sugar, corn syrup and ½ cup cold water. Cook over medium high heat stirring constantly until sugar has dissolved. Once dissolved, cook mixture without stirring until a candy thermometer reaches 240 degrees.
In a bowl, beat egg whites, extracts and salt on high speed until stiff peaks form. Set aside. In a stand mixer, combine both gelatin mixture and cocoa mixture. Slowly beat in hot syrup. Beat all the ingredients on the highest speed of your mixer until marshmallow triples in volume (color will lighten too) and mixture becomes thick, about 4-6 minutes. Gently fold in egg whites. Pour marshmallow into prepared pan. Sprinkle with grated chocolate. Chill for at least 2 hours or until set. Cut into squares.
To dip into chocolate: Melt 8 oz candy coating. Dip bottoms of ear marshmallow into chocolate. Set upright on a wire rack to set. Store in an air tight container.