As a kid, I used to love chocolate covered cherries.  They were my second favorite candies after chocolate covered caramels.  Each Valentine's Day, I would wake and search the house anxiously to see if my parents  surprised me with a velvety heart-shaped box full of fancy chocolates.  My friends would come to school and talk about the multi-tiered boxes already presented to them by their parents.  I would be a bit envious, I admit.  But I just knew that when I came home, my chocolate treasures would be waiting for me.  Sadly, my parents never bought into the hype.  No chocolate covered caramels, no chocolate smothered cherries.
     I knew in my heart that store-bought chocolates really had nothing to do with how much my parents loved me.  It was more a matter of thriftiness.  Now that I have my own kids, I am determined to present each of my kids with a  heart box full of chocolates each Valentine's day.  I'll be thrifty in other ways.  While I bake loads of goodies for my kids each week  there's just something about getting a box full of chocolates.  I just can't resist them.  What can I say, I'm sentimental I guess.  And, well, I sort of hope they share.
     I found these cherry flavored M & M's and fell in love.  They are bigger than your every day M & M and full of cherry cordial flavor!  I added dried cherries to intensify the cherry flavor.  Almonds  pair nicely with cherries and add a nice crunch to the whole cherry, chocolate mix.  My husband went nuts (no pun intended) over this bark!   I went nuts over this bark!  It actually got me thinking.  I don't need to have the kids share their chocolates with me anymore.  With this bark,  the need to pick through their heart boxes in search of those coveted chocolate covered cherries has been eliminated.   Which means I can buy them smaller boxes.  How thrifty of me.
You might like these too: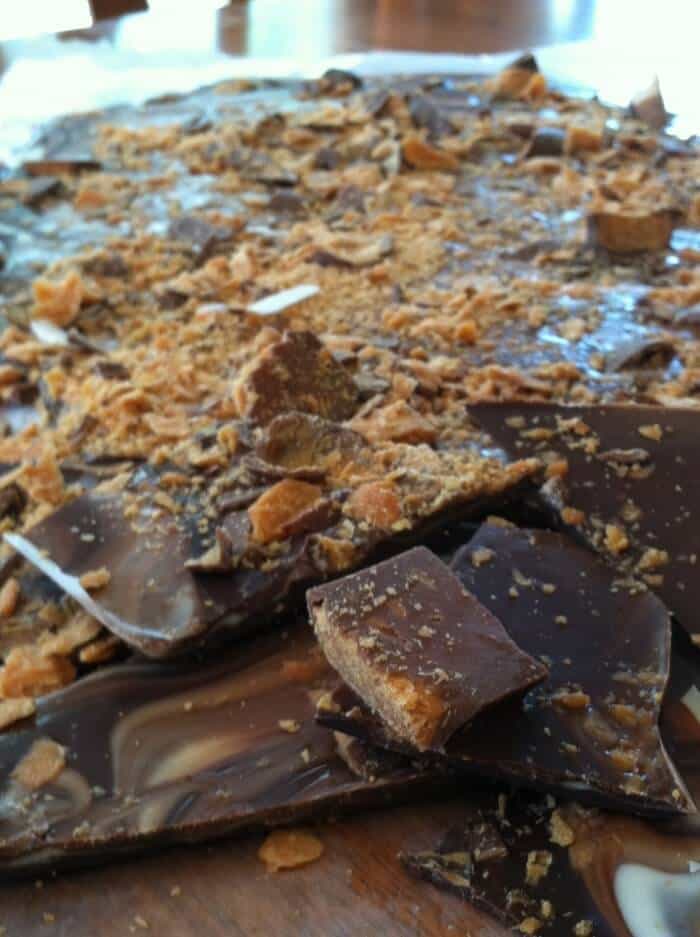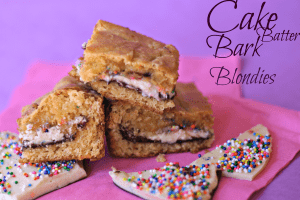 Cake Batter Bark Blondies
If you'd like a little Lulu in your life, please subscribe via email, RSS, Facebook or Google +.  I love staying in touch with friends!
Cherry Almond Chocolate Bark
Ingredients
2 cups semi sweet chocolate chips
2 cups white chocolate chips
1 cup of almonds, chopped
1 cup dried cherries
1 9.9 oz bag cherry flavored M & Ms
Instructions
Line a baking sheet with wax paper, set aside. In a microwave safe bowl, melt chocolate chips in 30 second intervals until smooth. Spread onto wax paper.
In another bowl, melt white chocolate chips. Drop white chocolate by spoonfuls onto semi sweet chocolate. With a toothpick, carefully swirl both chocolates. Gently press almonds, cherries and M & M's onto chocolate. Place in refrigerator to set, about 20 minutes. Break into pieces and store in an airtight container.
I'll be sharing this recipe with these fabulous sites as well as to: Jam Hands, The DIY Dreamer and