Welcome to Day #5 of Appetizer Week, a multi-blogger event co-hosted by Kim of Cravings of a Lunatic and Kristen from Frugal Antics of a Harried Homemaker. Whether you are a Broncos fan or a Seahawks fan , we wanted to make sure you had plenty of ideas for your game day spread. Each day we will be dishing up a different set of appetizers. We hope you enjoy this fabulous group of recipes. Tune in each day starting with Monday, January 20 and ending on Saturday, January 25.
These BBQ Chipotle Chicken Nachos come together so quickly!  Pantry staples combine with rotisserie chicken for a killer game day snack!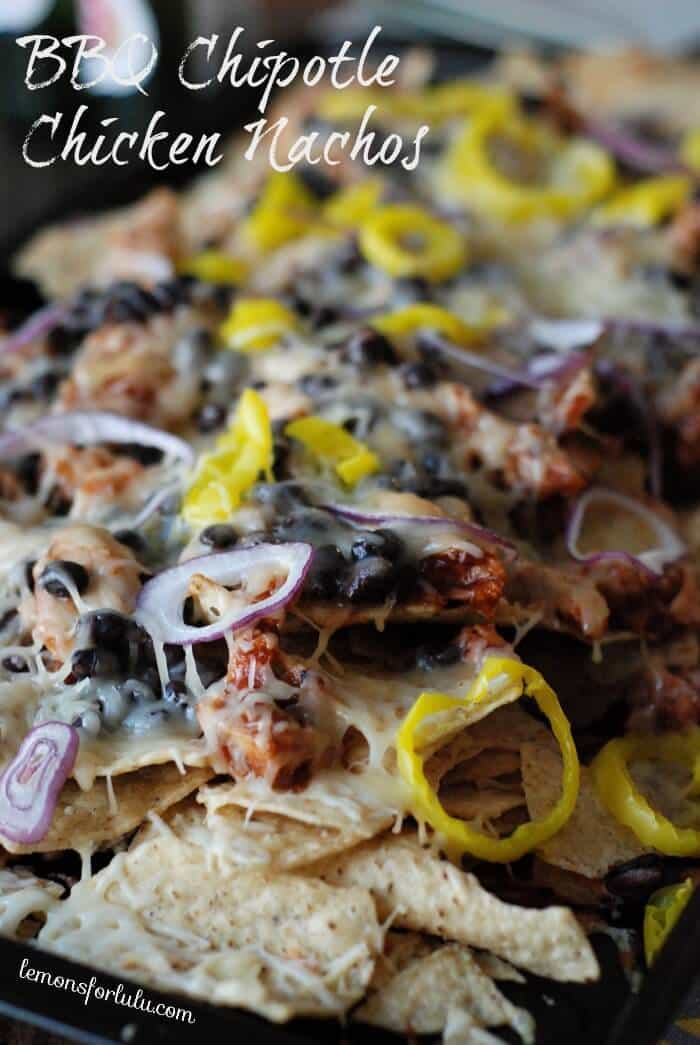 Nachos are usually considered snack food.  But these BBQ chipotle chicken nachos will change that.  THESE nachos will make you rethink the family meal!  See, I believe these are a complete meal in themselves.  Everything you'd want to serve your family right here in one pan.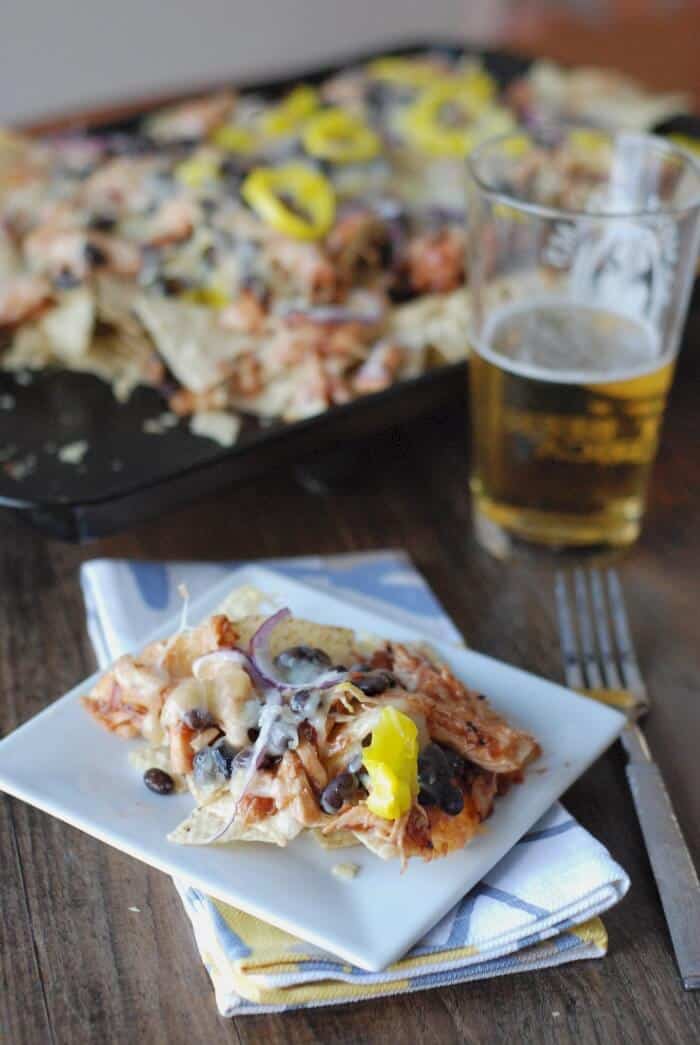 The nachos start with a rotisserie which has been mixed with both a tangy bbq sauce and a smoky chipotle salsa.  That's the protein.  Black beans add fiber.  The Monterey Jack cheese and Gouda cheese give you calcium.  Red onions and banana peppers are our vegetables.  And finally, our tortilla chips give us our grain.   See?  A complete meal.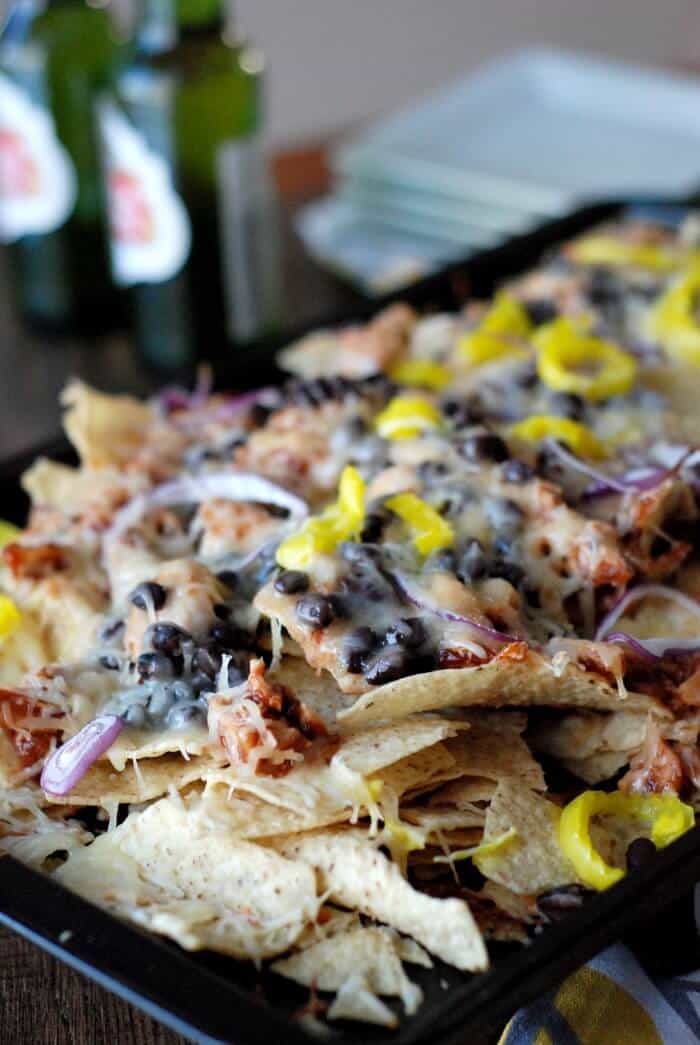 I can justify anything can't I?  I think I've convinced myself that raspberry cupcakes are health food.   Please don't tell me I'm wrong,  I like living in this delusional food state.
MUNCHIES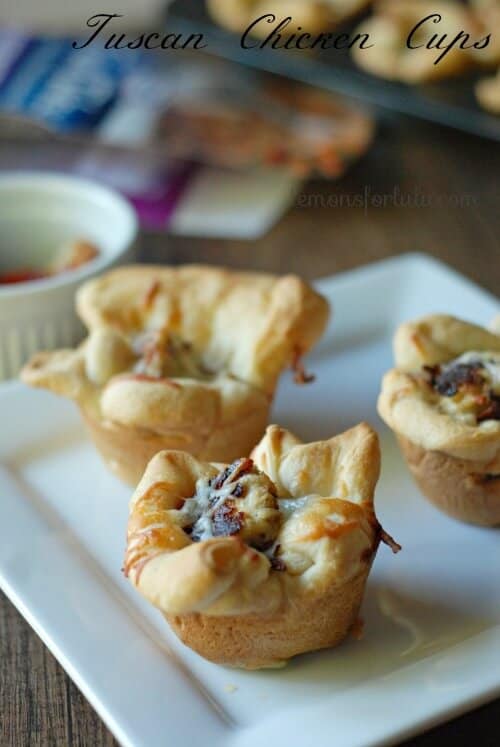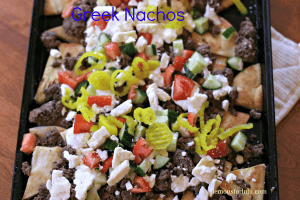 NEVER MISS A RECIPE! SUBSCRIBE TO MY EMAIL TODAY!
FOLLOW ME:
FACEBOOK | TWITTER| GOOGLE +| BLOGLOVIN | INSTAGRAM
BBQ Chipotle Chicken Nachos #AppetizerWeek #PotsandPans Giveaway!
Ingredients
1 16 oz package tortilla chips
1 rotisserie chicken shredded and coarsely chopped
½ cup bbq sauce
¼ cup Chipotle flavored salsa (I used Frontera)
1 cup black beans rinsed and drained
1 cup Monterey Jack cheese, shredded
1 cup Gouda cheese, shredded
¼ cup sliced red onions
¼ cup sliced pickled banana peppers
Instructions
Preheat oven to 350.
Arrange tortilla chips on a baking sheet.
In a bowl combine chicken, bbq sauce and salsa. Spoon chicken over tortilla chips. Top with beans and cheese, Arrange onions and banana peppers over cheese.
Bake for 10-15 minutes or until cheese has melted.
SEE THIS ON MY PINTEREST BOARD!
Follow Tanya Schroeder @lemonsforlulu.com's board Snick Snacks on Pinterest.


I may be linking this up to these parties and to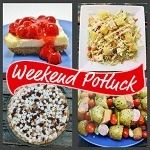 Visit all the other Appetizer Week blogs for more delicious ideas:
Today's sponsor is PotsandPans.com. Whether you're shopping for the perfect pot or the perfect price PotsandPans.com is the one stop shop for the savvy chef! PotsandPans.com is supplying #AppetizerWeek with some really special Rachael Ray Tools. Rachael Ray Tools all have one thing in mind: making time in the kitchen fun and efficient. These tools fit the bill with bright hues and innovative designs, today's prize pack is being offered in Orange. We know it will brighten up any kitchen. You can follow PotsandPans.com on Facebook and on Twitter.
Giveaway is open to U.S. Residents only. Must be 18 years, or older to participate. Please see terms in rafflecopter for full rules and regulations. Sorry to all our Canadian and International readers. xx
List of PotsandPans.com Prizes from Rachael Ray Tools:
Rachael Ray Tools 2-pc Spoonula Set in Orange
Rachael Ray Tools 2-pc Set: Lazy Spoon and Ladle in Orange
Rachael Ray Tools 2-pc Salt and Pepper Grinder Set in Orange
Rachael Ray Tools 3 Tier Stacking Salt Box
Rachael Ray Tools Balloon Whisk in Orange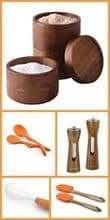 ***Disclaimer: This giveaway is being provided by PotsandPans.com. #AppetizerWeek bloggers have not received product or been compensated as a part of this giveaway.***