Healthy doesn't have to be boring!  This chicken and quinoa is drizzled with
a pesto ranch dressing to make this a light and tasty, yet satisfying meal!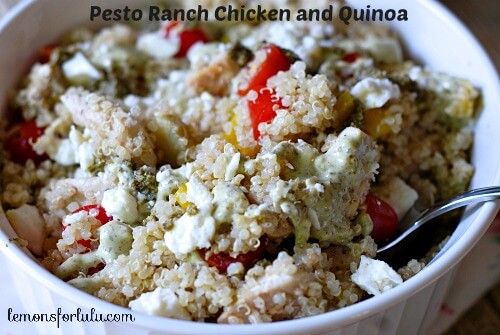 Like any human, I LOVE vacation!  Yes, I love the fun, family time, but I also love the fact that vacation means I DON'T HAVE TO COOK!.  I love cooking and being in the kitchen, but as a stay at home mom, I'm in the kitchen a lot!  I always get a little dizzy with the excitement at the prospect of not having to plan meals, do dishes or cook up one single thing.  For a week, I get to be served.
The problem is, by the end of the week I am so tired of buffets, fried food, soft drinks, burgers and chips!  I feel stuffed, greasy and well done.   I can't wait to get home and fill my body with fresh fruits and vegetables.  I long for meals made with my own hands in my own kitchen with ingredients I gathered myself!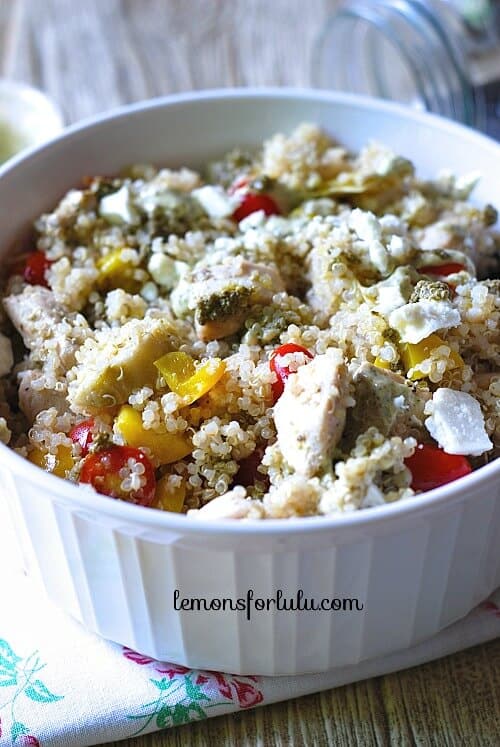 After a week of cookie cutter restaurants, I found myself craving quinoa.  I just started throwing things in with my quinoa and came up with this!    There are so many flavors in this meal between the seasoned chicken, the cherry tomatoes, the feta and the marinated artichokes.  The pesto ranch dressing drizzled over the entire dish was like icing on the cake!  It was delicious, healthy and satisfying!
After eating this, I felt good again.  I felt lighter and healthier and happy to be in my own kitchen!  However, then I had dishes to do and a kitchen mess to clean.  I see pizza in our very near future!
NEVER MISS A RECIPE! SUBSCRIBE TO MY EMAIL TODAY!
FOLLOW ME:
FACEBOOK | RSS | TWITTER | GOOGLE + | BLOGLOVIN | INSTAGRAM
Pesto Ranch Chicken and Quinoa
Ingredients
1 cup quinoa
2 cups chicken broth
1 tablespoon olive oil
1 lb chicken tenders cubed
1 teaspoon thyme
1 teaspoon oregano
1 cup cherry tomatoes, halved
6 oz jar marinated Artichoke hearts
1 cup yellow peppers, diced
½ cup Feta cheese crumbled
¼ cup Ranch dressing
2 tablespoons Pesto
Instructions
Prepare quinoa according to package directions substituting chicken broth for water.
Meanwhile, heat skillet with olive oil. Season chicken with seasoning adding salt and pepper as desired. Cook chicken until no longer pink, about 6-8 minutes. Remove.
Combine quinoa and chicken in a serving bowl. Add tomatoes, artichokes and peppers stirring to combine. Top with Feta. In a small bowl, combine Ranch and pesto. Drizzle dressing over quinoa and serve.
http://www.lemonsforlulu.com/2013/08/26/pesto-ranch-chicken-and-quinoa/
 SEE THIS ON MY PINTEREST BOARD:
I'll be sharing this recipe with these parties as well as with: