Sweet little chocolate sandwich cookies have a raspberry infused
chocolate ganache filling and are studded
with raspberry M & M's!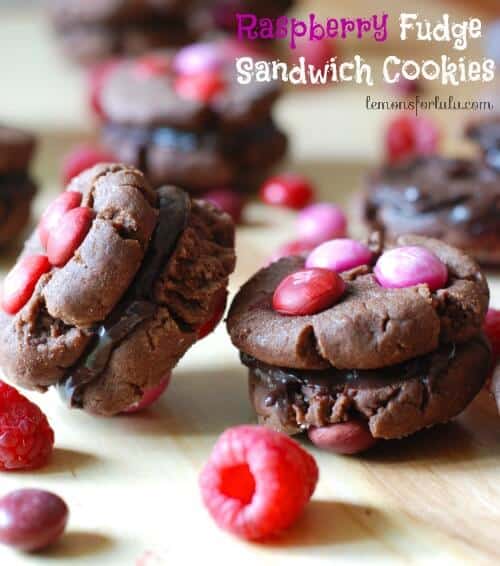 I had a big crush on Spiderman when I was a kid. There was just something about him.  I think it was his sharp wit and his quick reflexes.  Who could resist those acute spidy senses?  I loved how he wasn't debonaire like Batman.  He was just an everyday teenager who could scale walls and shoot out spider webs.    After Spiderman, my next favorite superhero was  Wonder Woman.  But really, what girl didn't love Wonder Woman???   She was smart, self-assured, strong and sassy.  And she had a way with accessories.  I was so envious of that gold headband,  those wrist bands and the red hot boots.   Don't get me started on her invisible airplane!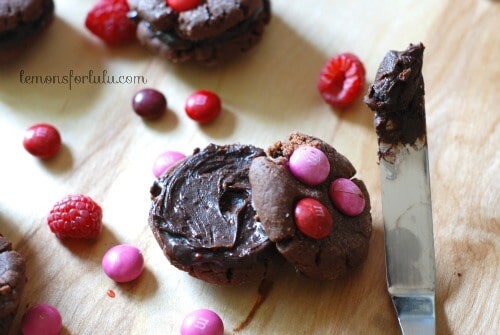 Underoos' were popular when I was a kid.  I wanted Wonder Woman Underoo's in the worst way.  But my parents knew a waste of money phase when they saw one and refused to buy them for me.  Being the creative and resourceful girl that I was, I fashioned my own Underoo's out of my tee shirt and underwear, using a table cloth for a cape.   Then I'd put a plastic head band in my hair, sweatbands around my wrists, pull up red knee-high socks and channel my inner superhero.  I would turn into the biggest, baddest 7-year-old around!  I had moves like a Ninja and was able to deflect countless imaginary bullets.    Damn I was good.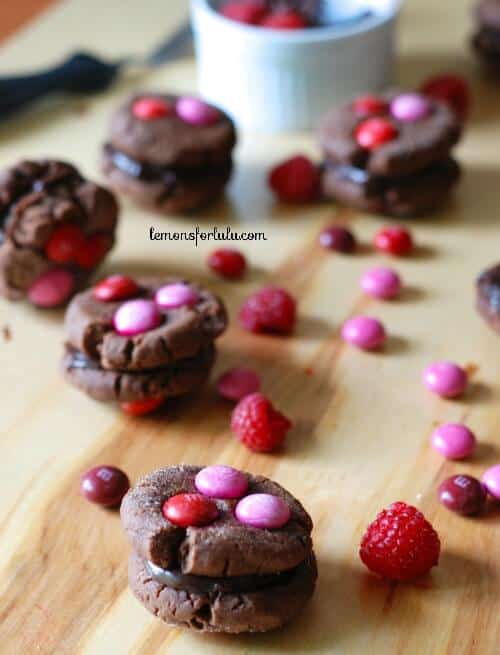 I don't remember exactly when I lost interest in superheroes.  I'm guessing it was about the same time I realized the tooth fairy wasn't real.   Common sense finally told me that people don't actually fly around in invisible jets or with capes and wings.   And endings were not always happy.  That last fact was quite sobering and one you only reluctantly accept when you are an adult.  But along with this acceptance is the realization that superheroes do exist, we just define them differently when we have grown.   They are every day people with every day jobs.  No alter egos.  No quick changes in phone booths.
I no longer pretend to have super powers.  Now I hope to just be super to my kids.  I know I fail in many ways.   Baking is not one of those ways.  And these chocolate cookies that I made recently were pretty darn super.  In fact, as the kids bit down into these sandwich cookies, I could swear I heard theme music playing somewhere (in my head anyway).   As my kids looked up at me with raspberry flavored chocolate smeared all over their satisfied faces,  I stood tall and proud,  with hands on my hips and my apron blowing swiftly behind me.   Once I again, I was damn good.
CRAVING MORE CHOCOLATE?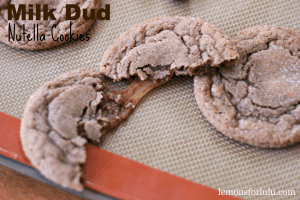 NEVER MISS A RECIPE! SUBSCRIBE TO MY EMAIL TODAY!
FOLLOW ME:
FACEBOOK | RSS | TWITTER | GOOGLE + | BLOGLOVIN | INSTAGRAM
Raspberry Fudge Sandwich Cookies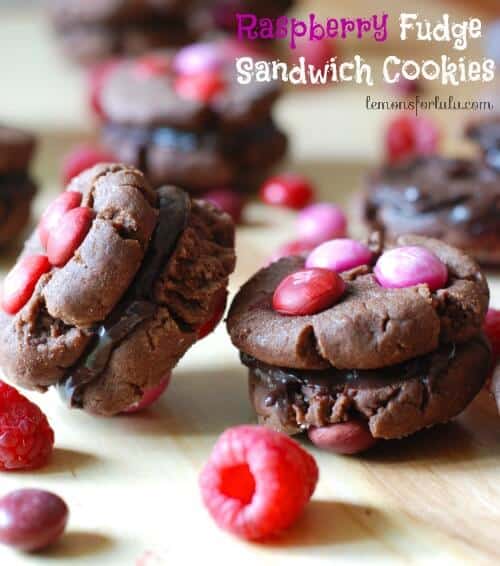 Ingredients
3 ½ cups flour
2/3 cup cocoa powder
2 teaspoons baking powder
1 1/3 cup butter, softened
1 ½ cup sugar
¼ cup vegetable oil
2 eggs
1 teaspoon vanilla
For the filling:
1 14oz can sweetened condensed milk
10 oz semi sweet chocolate chips
2 oz unsweetened chocolate, chopped
2 teaspoons raspberry extract
¼ cup raspberries, crushed
¼ cup sugar
8 oz package raspberry flavored M & M's
Instructions
In a bowl, combine flour, cocoa, and baking powder. Set aside.
In a mixer bowl, beat butter until smooth. Add in sugar and oil mixing until blended. Add eggs and vanilla continue beating until well incorporated. Carefully beat in flour mixture. Cover and refrigerate dough for 1 hour.
Preheat oven to 350. Line your baking sheets. Shape dough into one-inch balls and arrange cookies about 2 inches apart on your cookie sheets. Pour ¼ cup sugar in a bowl and dip a small glass in sugar then press on each cookie to flatten. Press 3 or 4 M & M's onto each cookie. Bake cookies for 7 minutes or until cookie edges begin to firm. Allow cookies to cool on the baking sheet for 1 minute before removing to a cooling rack.
While cookies cool, prepare filling. In a saucepan, combine milk, chocolate chips, chopped chocolate and raspberry extract. Stir until chocolate has completely melted. Crush raspberries with the back of your knife and stir into chocolate mixture. Allow filling to cool completely. When ready, spread filling on one cookie, top with another. Store in refrigerator until ready to serve.
http://www.lemonsforlulu.com/2013/07/16/raspberry-fudge-sandwich-cookies/
SEE THIS ON MY PINTEREST BOARD:
I'll be sharing this recipe with these parties as well as to Jam Hands and